Henry M. Thomas III
7/3/2012, 8:45 a.m.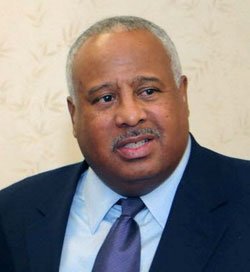 Henry M. Thomas III

Governor Deval Patrick recently appointed Henry M. Thomas III as the new chair of the Board of Trustees for the University of Massachusetts (UMass), effective July 1st.
Thomas, who serves as President of the Urban League of Springfield, currently serves as vice chair of the UMass Board of Trustees and is the chairman of the Board's Committee on Academic and Student Affairs.
Thomas was originally appointed to the UMass Board of Trustees by Governor Patrick in September 2007.
Thomas has worked in the Urban League movement for 35 years, serving 31 years as President and CEO.
Thomas earned a bachelor's degree in psychology; master's degree in human resource development from American International College; and a law degree from Western New England College School of Law.
Thomas is a native of Springfield, Mass., where he lives with his wife, Devonia J. Thomas.
Thomas will succeed James J. Karam, whose 10-year term on the UMass Board of Trustees will expire early next year. Karam will continue to serve as a member of the Board until his term expires next February to assist in this transition.