Ne-Yo talks about his role as Andrew "Smoky" Salem in "Red Tails," the World War II saga recounting the daring exploits of the Tuskegee Airmen.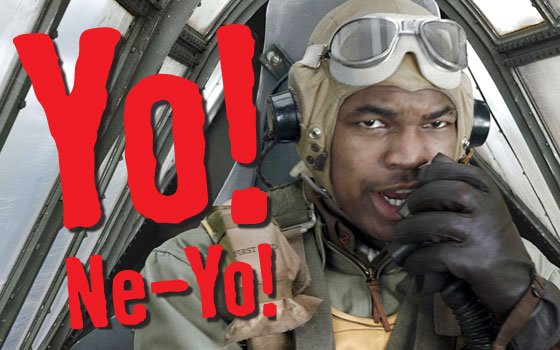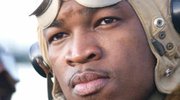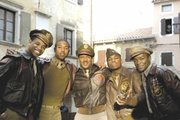 Ne-Yo talks about his role as Andrew "Smoky" Salem in "Red Tails," the World War II saga recounting the daring exploits of the Tuskegee Airmen.


Shaffer Chimere Smith, also known as Ne-Yo, was born in Camden, Ark., but raised in Las Vegas, Nev., by his mom, a musician of Chinese and African American descent. He began making a name for himself as a singer/songwriter in 1999, going on to compose hits for Mary J. Blige, Faith Evans, Christina Milian, B2K, Mario and others, and also record four solo albums.
In 2006, he added acting to his repertoire, making his screen debut in "Save the Last Dance," later appearing in "Stomp the Yard" and, more recently, in "Battle: Los Angeles."
What interested you in "Red Tails"?
For starters, I wanted to do an acting role in a movie that had nothing to do with the music business or in which I would play a singer or a songwriter. When I act, I don't even want to be thought of as Ne-Yo. I want to be Shaffer Smith, which is my government name.
So, my initial attraction to "Red Tails" was the opportunity to play a character that was not me. "Stomp the Yard" was a great film, but I played myself there. When "Red Tails" came along, all I knew was that they were the first African American fighter pilots in the U.S. Air Force.
I had no idea how deep the story went or about all their amazing achievements. There were a few Tuskegee Airmen on the set to make sure everything was as authentic as possible. And just to sit back and listen to these cats talk about the discrimination they faced while fighting for their country really got to me.
So, I was really happy to be a part of this film, and excited that their story is being told in the way it's being told. It's more than just entertainment. It's educational at the same time. [Producer] George Lucas and [director] Anthony Hemingway knew what they were doing.
How do you expect "Red Tails" to contribute to the public's rethinking about the historic role of the Tuskegee Airmen?
By focusing on their triumphs as much on the tragedy. I like how Anthony decided not to hit the audience over the head about the racism. We all know that racism was rampant in the U.S. in 1942.
So, instead of simply highlighting the segregation and discrimination these aviators had to endure, he accentuated their positive experiences, like the fact that they wound up doing their job better than anyone had before them.   
What message do you think people will take away from the film?
For me, that any and everything is possible, if your heart is in it and your mind is in the right place. If you believe in yourself, it doesn't matter what others might be telling you is impossible. It's all up to you!
Did meeting the real-life Tuskegee Airmen affect how you approached your character, Smoky?