MLK Breakfast honors King's dream, legacy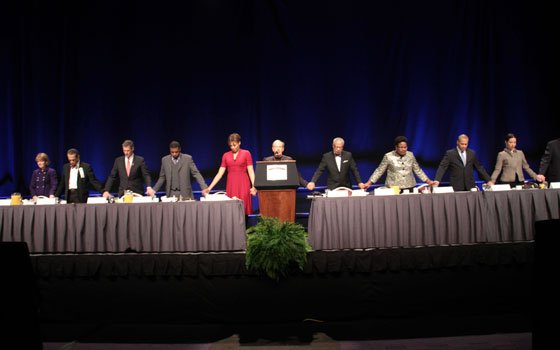 More than 40 years have passed since the assassination of civil rights leader Dr. Martin Luther King Jr., but attendees at the recent MLK Memorial Breakfast were reminded why it's important to remember his dream.
Hundreds of people gathered at the Boston Convention and Exhibition center on MLK day to honor King's memory. Union United Methodist and St. Cyprian's Episcopal churches have been hosting the breakfast for 42 years. It's considered the oldest memorial breakfast in the nation.
This year's guest panel included Massachusetts Attorney General Martha Coakley, Gov. Deval Patrick, state Rep. Carlos Henriquez, U.S. Sen. Scott Brown, Mayor Thomas Menino and state Sen. Sonia Chang-Diaz.
The governor urged listeners to follow in the footsteps of King and dedicate their lives to serving others.
"I challenge us to live up to his example. I want people to turn to each other rather than on each other," said Patrick.
He went on to talk about faith.
"Faith is more than what we believe," he said. "It's what we do and who we touch."
City Councilor Tito Jackson agrees.
"His dream can be realized through faith and with action and by creating equal opportunities for all," Jackson said. "More importantly, we must remember to hold the door open for those who come after us."
Henriquez, who just recently lost his father, talked about the responsibility that comes along with having a dream.
"Martin Luther King shared his dreams not only with his wife and children, but with all of us," Henriquez said. "He moved from dreams to action. My father told me that I have a grit about me when it comes to serving others. I challenge you to look for your own grit and never quit your service."
Reflections on King's dream of equality and service were brought to life by the words of all the speakers and matched the sentiments of those in the audience.
"It's important that we remember his dream because the struggle continues," said Grace Romero, the first Latina elected to the Boston School Committee. "We have fought against racism, but it still exists."
Keynote speaker Dr. Walter E. Fluker  spoke about visiting the MLK monument in D.C. and how critical sites of memory are.  Fluker is the MLK Jr. Professor of Ethical Leadership and editor of the Howard Thurman Papers Project from Boston University's School of Theology.
He touched on some of Dr. King's most powerful calls to action and wrapped his speech with a simple question.
"If you don't do it," he asked, "who will?"