Keeping entire families healthy
1/24/2012, 7:46 p.m.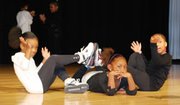 This week, the Salvation Army Ray and Joan Kroc Corps Community Center ("The Kroc") is adding new classes to its already robust programming in an effort to keep families healthy this year.
The center, located in Uphams Corner in Dorchester, is the largest of its kind in New England. It boasts a recreational pool, more than 30 fitness stations, a senior center, an NCAA-regulation basketball court, a commercial kitchen and more. Whether it's an art class, an acting workshop or private swimming instruction, the Kroc has something for everyone.
Providing relevant programming is of the utmost importance to staff members. They want to know firsthand what members and non-members are thinking.
"I live in the community and I asked around to find out what they wanted to see at the center. They wanted afterschool programs, English as a second language classes, computer literacy classes and summer camp," explained Marisol Ayala, education coordinator at the Kroc.
Ayala took the suggestions of the community and brought them back to Kroc staff. Now, open gym sessions for adult volleyball and computer classes for seniors age 55 and up are both open for registration.
"We're really excited about volleyball this week. There aren't many spaces in the inner city for volleyball. One day we'd like to have a volleyball team or league," said Yhinny Matos, membership sales and marketing manager at the Kroc.
According to a recent survey by the U.S. Department of Health and Human Services, obesity disproportionately affects certain minority youth populations. They found that African American and Mexican American adolescents ages 12-19 were more likely to be overweight, at 21 percent and 23 percent respectively, than non-Hispanic White adolescents. What's more, the survey found that overweight children were 70 percent more likely to be obese adults.
To combat this, the Kroc has dozens of sessions catering to youth — like hip hop dance, ballet, aquatics classes and more — as well as adults including group exercise, basketball and swimming.
"Currently all children under 12 must be accompanied by an adult — a fitness instructor or parent — when using exercise equipment. But, we have a Youth Fitness Program that teaches younger kids how to properly use the machines. Once the program is completed, the kids (ages 12-17) will be allowed to use the machines without supervision," shared Matos.
Parents with young children can come in for recreation or fat burning and drop their kids in one of the new toddler programs like Paste, Paint and Shape. This program allows toddlers to explore the visual arts during a six-week session. Students will use glue, washable paint, play-dough and other simple arts materials to create pictures, sculptures and other take-home crafts.
Members are not the only ones who can benefit from the center. Non-members are allowed to use the facility for a slightly higher per class fee. Costs vary per program offering and can be found in the seasonal program guide, available online and at the Kroc.
For individuals or families in need of financial assistance, the Kroc offers new fee structures with memberships starting as low as $2. The amount of aid received is determined by family size and financial need.
For those who are interested in checking out the facilities before committing to a membership, the Kroc offers day passes, $5 for kids and $10 for adults. It's a great way to see if the schedule and offerings suit one's needs.
But there's much more to do at the Kroc than just working out. The center provides mental and emotional enrichment with a variety of unique arts programs. Take the family to the Kroc and get fit in the New Year and try something different.
The Kroc is open seven days a week. Registration is required for almost all programming. For more information on the Kroc, visit www.use.salvationarmy.org/use/www_use_bostonkroc.nsf/.