Arts
1/11/2012, 7:20 a.m.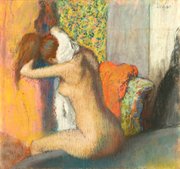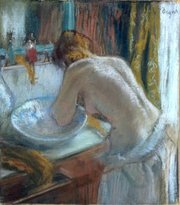 My latest activities around the city have included a mix of comedy and exhibits. Here's a peek at the latest at the Museum of Science and the Museum of Fine Arts.
Comedian Robert Kelly
Top: Edgar Degas, "After the Bath, Woman Drying Her Neck," 1895-98. Pastel on wove paper. Paris, Musée d'Orsay, bequest of comte Isaac de Camondo, 1911. © Photo Musée d'Orsay. Bottom: Edgar Degas, "La Toilette," 1884-86. Pastel over monotype laid down on board. Private Collection. Courtesy of Private Collection.


Robert Kelly came up in the comedy ranks with Dane Cook, Patrice O'Neal and Gary Gulman, and he just keeps getting better. He weaves these really funny stories from living in New York and his battle with the bulge to the intimacies in his marriage and having his body waxed for the first time. That visual alone is worth the price of admission! I laughed the whole time and so did the nearly sold-out crowd at The Wilbur Theatre. Make sure you see him when he comes back to town. Or, if you're ever in New York, check him out at the Gotham Comedy Club. 
A Day in Pompeii
If you're a history buff, then this exhibit is for you! I finally made it over to the Museum of Science after hearing the commercials for the Pompeii exhibit for several weeks, and it was fabulous! "A Day in Pompeii" gives you a glimpse of daily life in Pompeii in 79 A.D., before Mount Vesuvius erupted and buried the city with ash.
At that time, Pompeii was one of Rome's most cosmopolitan cities that was known for its art, architecture, fishing industry and spices. The exhibit contained more than 100 artifacts, from body casts of the Pompeians (and animals) — which was sad and fascinating at the same time — to their technology in creating medical tools, fishing needles (which is still used today), to their ovens and appreciation of the finer things in life, like frescoes, jewelry and bath houses.
Because of the city's proximity to the Mediterranean Sea, coupled with the good soil and rock that came from Mount Vesuvius for growing food, the citizens of Pompeii seemed to have a good life. It's a moment frozen in time that you rarely get to see about a fascinating culture, and I thoroughly enjoyed it! Go alone or with friends, but it's definitely worth the time and money. "A Day in Pompeii" closes on Feb. 12.
Degas and the Nude
Painter, sculptor, artist and a founding member of the Impressionist group, what more can you say about Edgar Degas? Known the world over for his appreciation and work on the female and human form, Degas caught my eye when I was in college and first became aware of his bronze sculptures of dancers.