New book describes life in women's prisons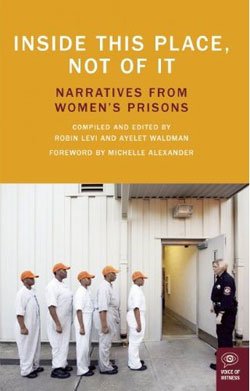 Olivia Hamilton was pregnant and in prison. Serving a one-year sentence for stealing money from work to pay her bills — about $700 — the New Orleans resident was just three months shy of her due date when she was put behind bars.When her due date finally arrived, she was taken to a hospital, chained to an operating table and given a medically unnecessary c-section against her will.
"I think my medical treatment in prison was cruel, degrading, and shameful," Hamilton said. "Being shackled, being forced to have that C-section — it was the worst feeling, mentally and emotionally, that I have ever been through."
Less than 48 hours after her baby boy was born, he was taken from Hamilton. "Walking out of that hospital, knowing I was leaving my son — it killed me inside," she said. "I just remember looking at my baby, and kissing him, and crying, and not wanting to go."
The harrowing story of Hamilton and other women imprisoned in the United States are the subject of Robin Levi and Ayelet Waldman's new edited volume, "Inside this Place, Not of It: Narratives from Women's Prisons."
In it, Levi and Waldman chronicle not only the mistreatment and abuse women face in American prisons, but also the circumstances leading up to their incarcerations.
Although women comprise a small percentage of the American prison population — about 7 percent — they are the fastest growing group of inmates. In 1977, just 11,212 women were behind bars, and by 2007, that number ballooned to 107,000.
These prisoners face unique challenges as women, said Levi, human rights director at the Oakland, Calif.-based nonprofit Justice Now. "More than two-thirds of the women inside are primary caretakers of children," she explained. "If they're inside as primary caretakers, there is no one to take their child to see them, to make sure those connections are maintained."
But more importantly, she continued, "They are in high danger of termination of their parental rights." Under the Adoption and Safe Families Act, signed into law in 1997 under President Bill Clinton, the state will cut off parental rights if a child has been in foster care for 15 of the most recent 22 months. "For children three years or younger, it's even more aggressive," Levi adds. "In California, for instance, if you're a child of three years or younger, in just six months your rights can be cut off. Those lengths of time are shorter than most people's stints inside for what we consider low-level drug offenses."
Women like Olivia Hamilton will also lose their children if they give birth in prison, usually between 24 and 72 hours of delivery. And others never get the chance to have children at all. "Because of these increased sentences," Levi said, "women inside are in danger of spending their entire reproductive lives inside." In addition to parental challenges, incarcerated women also face poor reproductive health (in particular, aggressive hysterectomies) and sexual abuse from prison guards and staff.
As with men, women of color are disproportionately represented among inmates, making up about half of the population — and over a third are black. An astonishing 90 percent of incarcerated women have suffered sexual and/or domestic abuse prior to being locked up, and 90 percent report annual incomes of less than $10,000.