Joy to the Queen!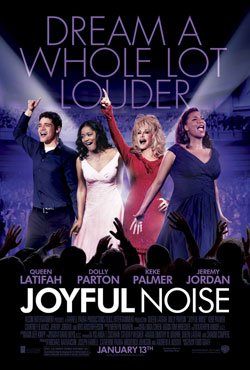 Queen Latifah talks about her role in "Joyful Noise," a musical comedy co-starring Dolly Parton
Born Dana Elaine Owens in Newark, N.J., on March 18, 1970, Queen Latifah is an award-winning actress, rapper, singer, author and entrepreneur. She landed an Oscar nomination in 2003 for Best Supporting Actress, as well as Golden Globe and Screen Actors Guild (SAG) Award nominations for her performance as Mama Morton in "Chicago."
In 2008, Latifah received rave reviews and won a Golden Globe, SAG and an NAACP Image Award for her powerful portrayal of a mother who overcomes an addiction to crack and becomes a positive role model and AIDS activist in the black community in HBO's "Life Support."
In addition to her film and television accolades, she earned a Grammy Award for Best Solo Rap Performance in 1994, and was nominated for Best Female Rap Solo Performance for "Go Head" in 2004.  
Latifah made her screen debut in Spike Lee's 1991 film "Jungle Fever," and her other film credits include "The Bone Collector," "The Last Holiday," "The Secret Life of Bees" and "Just Wright."
What interested you in "Joyful Noise"?
I felt that its timely, uplifting story was perfect for me, given what's going on in the world right now. And I already loved the studio, Alcon Entertainment. They've made a lot of nice movies in the past ["The Blind Side," "Dolphin Tale," etc.], and they really do a great job of marketing their films. And I liked the idea of working with Dolly Parton and Keke [Palmer].
What was it like working with Todd Graff? It seems like he knows a lot about both music and comedy?
He really does. It was great working with him because he's very thorough. I believe he had an excellent grasp of every aspect of the film, from the music to the staging. He knew exactly how he wanted it presented, which made the process a lot easier.
And he likes to rehearse, which I do, too. So often, you don't get that opportunity. You only go over everything once and, the next thing you know, you're on set. Todd had a vision of what he wanted to do and, because he also wrote the screenplay, it was easy for him to make observations, take notes and tweak the script whenever necessary. It was perfect!
What message do you think people will take away from "Joyful Noise"?
I would say that overall, the movie offers an inspirational message of hope, love, camaraderie, joy and overcoming challenges in difficult times. All that good stuff!
What's your favorite song in "Joyful Noise"?  
My favorite song? For me, it was "Fix me, Jesus."
How hard was it to make the switch from hip hop to acting?
Developing my skills and getting really good at acting was actually more challenging than making the switch. As a rapper, you sort of act in music videos and in the persona you adopt onstage. You kinda have to put yourself out there and be courageous even to be a rapper. So, to step into acting was not that difficult a transition to make.     What was difficult was the work and the practice that went into becoming good at it, because I hadn't had any training.