Sweet!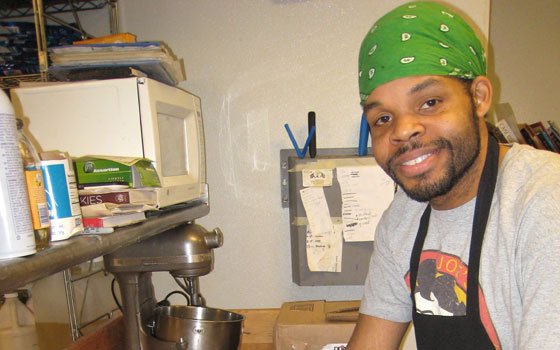 Local baker constructs cake for Dudley groundbreaking
Julius Johnson no longer starts work at 4 a.m., as he did in the first years of his baking career. These days, the 30-year-old Dudley Square resident and executive pastry chef at Boston Common Coffee Company has a crew to do that.
But near February's end, Johnson was anticipating 12-hour days and predawn work as he embarked on the biggest project since his culinary training began 14 years ago at Madison Park High School.
On March 3, Boston Mayor Thomas Menino will preside over the groundbreaking for the Dudley Municipal Center, the $115 million project meant to breathe new life into the Ferdinand Building site and jumpstart economic revitalization in Dudley Square. After the speeches and shovels will come the ceremonial cake cutting. And that's when the spotlight will turn to Julius Johnson's construction project—a tall, multi-tiered cake meticulously designed to be a 3-D model of the new municipal building.
With five days to go before the groundbreaking, clad in a flour-covered apron in the kitchen of Boston Common Coffee's downtown shop, Johnson described the cake assembly schedule and challenges. The Dudley cake is his own project, but he has the full support of his boss, owner Peter Femino, to create it in the workplace kitchen, working at night after his normal shift.
On a shelf near the oven Johnson has hung an image of the architects' design drawing, which shows a modern brick and glass structure rising above the old Ferdinand's furniture store shell. The drawing reminds him what he's aiming for — and just how complicated the building's historic facade is.
"I'm pretty detail oriented, so it's causing me some stress, trying to get it just right," said Johnson. His living room floor is covered in Styrofoam bits and blueprints, he said, the leftover debris of an intense artistic process. He only received the assignment a week earlier, so it's been a whirlwind.
"Tonight I'll make my buttercreams, and color my fondant," he said, referring to the glossy icing used as a finish on decorative cakes. Culinary terms slip easily off his tongue as he describes the craft and detail involved in such a project.
Johnson grew up in Dorchester and attended Madison Park High School. He considered directing his love of words and grammar toward a college English major, but his talent shone in Madison Park's culinary program and he went on to earn a culinary arts certificate at Bunker Hill Community College. He landed baking jobs at Sebastian's Catering and Flour Bakery + Cafe before taking his current job in 2010.
One of Johnson's dreams is to open his own custom cake studio, but he remains a man of letters as well as manual arts. He writes poetry and reads in his spare time, and makes a hobby of studying his collection of 200 plus cookbooks.
Along the culinary training path he met and was mentored by Toni Elka, formerly of the Anthony Spinazzola Foundation and now executive director of Future Chefs, a school-to-career program she founded for urban youth interested in culinary arts.