Hundreds protest proposed MBTA cuts and fare hikes
Yawu Miller | 2/15/2012, 9:07 a.m.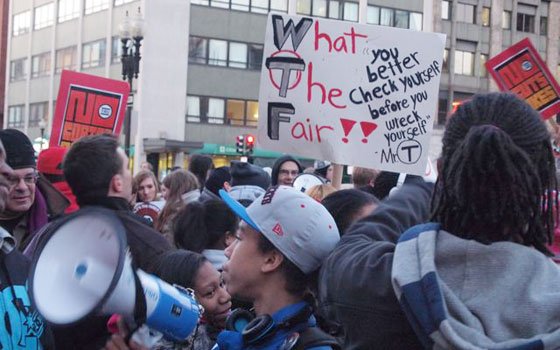 Activists lined up to testify in a packed hearing Monday on the MBTA's proposals to close an estimated $185 million funding deficit at the Boston Public Library. A crowd of more than 400 rallied outside the building against the agency's proposals to increase fares and cut services.
High school students, disabled activists, senior citizens and labor activists were among the crowd that assembled on the Dartmouth St. sidewalk and filled the Rabb Lecture Hall where the hearing was held.
The MBTA is proposes raising bus fares from the current $1.25 to $1.75, and train fares from $1.70 to $2.40. In addition, train fares for senior citizens would increase from $.60 to $1.50.
Service cuts would also include the elimination of numerous bus routes and an end to weekend service on the commuter rail, the E branch on the Green Line, the Mattapan trolley line and several dozen bus routes. They also propose closing all ferry routes.
"These cuts are affecting people  — not those in corporations, but those who need the T to go to work, to school, people who can't afford cars," said Royal Nunes, an activist who took the afternoon off from work to attend the demonstration.
The demonstration was the largest yet in protest of the MBTA's proposed fare hikes and service cuts. In addition to transit activists affiliated with the Alternatives to Community and Environment, members of the Occupy Boston movement were in attendance along with members of the Mass Senior Action Council, Mass Uniting and several youth organizations.
"People's livelihoods are being threatened," said Lee Matsueda, who heads ACE's Transit Riders Union. "We have to make sure people understand that this system is a lifeline."
Among those who offered testimony were students, who spoke against the MBTA's proposed doubling of fees for the monthly student pass, which currently costs $20. Senior citizens, who would face the same doubling in cost of their $20 monthly pass also spoke out against proposals to cut routes many use to obtain services.
"There are going to be people who are not going to be able to get to school," said Ramey Beckett, a senior at Cambridge Rindge and Latin, speaking outside the auditorium.
Beckett also said the higher fares would inhibit students' ability to participate in after school programs.
"Everyone has things to do after school," she said. "Colleges are looking for more and more activities. But a lot of us can't get jobs in this economy. I'm very concerned that kids won't be able to afford a pass."
Disabled riders, who depend on the MBTA's The Ride van service would see the cost of a fare hiked from the current $2 to as high as $12.
"The current proposal unduly affects our most vulnerable residents," said Mayor Thomas Menino, who testified in the hearing. "For many people, the T isn't the 2nd choice — it's their only choice."
Menino also argued the service cuts and fare hikes would negatively affect the region's economy and advocated new taxes to pay for the service.