Did Whitney Houston's crossover fame cost her?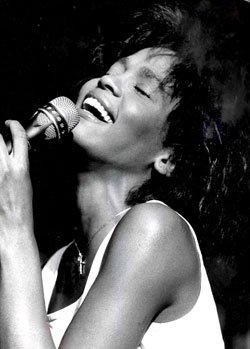 It's hard to remember now, with hip hop dominating the black music landscape, that there was a time when black female singers ruled the RandB charts.
Even before the ascent of Whitney Houston, legendary voices like Gladys Knight, Patti Labelle and Patti Austin scored huge hits. But when Houston made her debut in 1985 with her self-titled album, a new kind of star was born.
Houston was then a former "Seventeen" model with a significant musical legacy. Dionne Warwick is her cousin, and her mother, Cissy Houston, was a respected session singer turned solo artist who was part of a group called The Sweet Inspirations. (It's Houston's voice that's heard as part of the backgrounds on Aretha Franklin's classic, "Ain't No Way.")
Brought up in Newark, N.J., Houston showed talent early, but was brought along slowly by her mother, who wanted to ease her daughter into the business. But by the time Houston was a teenager, her voice was undeniable, and after a well-received performance at a New York City showcase, she signed to Clive Davis' Arista Records.
At 22, Houston delivered on that precocious promise with her first CD and its hit "You Give Good Love." The pop market embraced the young artist, whose voice, while trained in the black church, had more of a pristine tone than the traditional soul stylings of Houston's RandB predecessors. In fact, while Houston quickly rolled out hit after hit, her mainstream success brought criticism in its wake.
Despite the strides of Motown, Stax and Chess Records at the dawn of the 1980s, RandB music was still considered outside the pop realm. If a black artist could "cross over" — meaning attract an audience wider than their urban base  —  they could command greater record sales, bigger tours and more money.
Michael Jackson was the first artist to see this happen on a grand scale, single-handedly creating an opening for blacks to go mainstream by becoming the first black artist to be played on the then-burgeoning music video channel, MTV.
The rise of Prince and Madonna, as well as the groundbreaking multi-genre playlists of deejays like New York's Frankie Crocker, would help more black artists cross over than ever before. Houston's voice and look  —  wide-smiled and chisel-featured, slim with once-natural hair that was permed straight for her first album cover — made her the female artist that would most benefit from the change afoot in music.
The pop stardom that Beyoncé, Rihanna and Jennifer Hudson take for granted now was ushered in on Houston's multi-octave voice.
She reflected the ethos of the '80s. It was the decade where Gordon Gekko declared, "Greed is good" in the 1987 movie "Wall Street," and Reaganomics instituted policies disastrous to the middle class. Crack began to flow through inner city streets and what black Americans wanted most, after the upheaval of the '60s and '70s, was to assimilate. Buppie aspirations  —  including earning Ivy League degrees and rising through the ranks in white companies — was the order of the day. Houston was a black artist who achieved similar goals through music, enriching herself and becoming famous outside the black realm by virtue of her pop voice and songs that traded soul for accessibility.