Michael Capuano
2/7/2012, 6:29 p.m.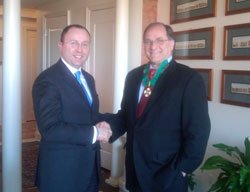 Michael Capuano
U.S. Rep. Mike Capuano was honored recently by the Italian government in a ceremony at the residence of Giuseppe Pastorelli, Consul General of Italy in Boston.
At the ceremony, Capuano was presented with the rank of Commendatore, the third highest title in the Order of Merit of the Italian Republic. Consul General Pastorelli and his predecessor Liborio Stellino nominated him for this honor.
"I am truly humbled by this award and extend my sincerest thanks to the Italian government for presenting me with such an honor. I am very proud of my Italian heritage and I wish that my grandparents, Sabina Sarno Capuano and Michele Capuano, were with me today," Capuano said.
Michele Capuano was an orphan born in Italy who made his way alone to America.
"I am proud to present Congressman Capuano this award as he embodies the best qualities and values of the Italian American people such as talent, resilience, hard work and dedication to family and good causes," stated Pastorelli.
The proposal for commendation reads in part: "Michael Capuano is an excellent example of a prestigious Italian who, through his professional and political capacities, has brought attention and a voice to those who are oppressed, in a constant search for justice."