Arts
2/7/2012, 6:22 p.m.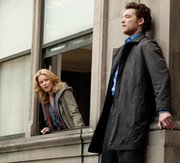 Shea Rose
I finally had the chance to see Shea Rose perform live. This 5'2" singer/rapper was absolutely fierce on stage, from her attitude to her purple sequin dress and bold silver necklace. Her clothes were only rivaled by her trademark afro, transformed into a mohawk-like 'do.
This was her first headlining performance and Shea rocked the stand-ing-room-only crowd at Café 939. Rose's set was filled with a range of musical styles from rock and hip hop to good old RandB. To be able to catch a glimpse of this star in the making was truly an experience and it's just the beginning.
Superbowl Sunday
The night began with an invitation to attend JAM'N 94.5's Superbowl Bash at the Hard Rock Café in Faneuil Hall. The air was filled with excitement for the rematch between the Pats and the Giants coupled with the celebration of Ramiro's birthday.  
The elements were all there for a great night: food, music (spinning by Pup Dawg), drinks, plus a dash of sweets with cupcakes provided by Cakes by Erin. I stayed through the first half of the game and the half-time show. Then I dashed off to "Coach" Willie Maye's superbowl party at Kings Boston.
It was another great turnout of Patriots fans with more food, drinks and a bit of trash talking on the side from a couple of Giants fans. Sadly, we all know the outcome of the game, but the run was good  while it lasted.
Elizabeth Banks shoots straight with "Man on a Ledge."
I had the chance to participate in a round-table interview with naturally funny actress Elizabeth Banks, who was recently in town to promote the film "Man on a Ledge." The Pittsfield, Mass., native, who has a recurring role on NBC's "30 Rock" and has starred in numerous films including "Seabiscuit," "The 40 Year Old Virgin," and "Zach and Miri Make a Porno" talked about her role in the thriller as Lydia Mercer, an NYPD police officer and negotiator who is called in to talk down an ex-convict (played by Sam Worthington), who is threatening to jump from a Manhattan hotel rooftop.
One of the things I liked about your character in this movie is that she's a police officer. Was that important to you to play a character where gender didn't matter?
I was very drawn to that fact that she was nobody's wife or girlfriend. I felt in a way that gender didn't really matter. It definitely existed. She could easily have been a man.  It could have been a younger John McClane. It definitely drew me to it. I met with some actual negotiators before we started and asked to meet a woman. I met this great lady from Staten Island via Ireland.  Her accent was incredible.  She was very girly. She was 42 and a mom. She wore a Banana Republic suit and carried a purse and had her piece in it.
She actually acknowledged that the police force is a boy's club "as everything is in this world."  There's a negotiation happening there. They don't apologize for being [women].  They're not apologizing for not being as a strong as a guy. She's not out pumping iron trying to be like a man. She's just a woman in a job that happens to be a negotiator.