Boston's 'Godfather of House Music' DJ Bruno retires
G. Valentino Ball | 12/20/2012, 11:24 a.m.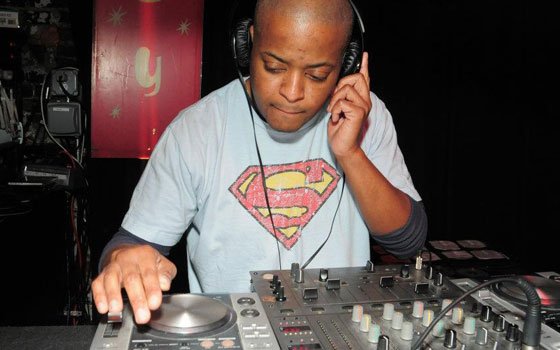 Eddy Morency is full of jokes. Considering the outfit he's wearing, it only seems right. Dressed in a top hat, bathrobe, sunglasses and long underwear, the husband and father of two is filming a WWE style promo in his home for what he believes will be the last party he will ever DJ. Morency, known internationally in house music circles as DJ Bruno, is walking away from a 25-year career.
Faced with a progressing case of diabetes, Bruno made the difficult decision to retire from what has made him a fixture in Boston's music scene for more than two decades. The Boston native was scheduled to take his place behind the turntables at Machine last Saturday night as a farewell to fans.
"I don't want people feeling bad," he said. "I want to go out having fun."
Bruno said he has been surprised by the outpouring of love and support since the news of his retirement broke.
"I can't believe the response," he said. "I was getting calls and people were crying. It was shocking."
In his various roles as a promoter, a record store owner at the now closed Biscuithead Records and a DJ, he touched a lot of lives. For Bruno, making the people move on the dance floor is an art, one he discovered at 18 years old on the fifth floor of the old Strawberries record store in downtown Boston.
"I used to play music for the customers; I had to play some of everything because we had so many different people coming in," he said. "I wasn't trying to mix or anything. This dude came in. A DJ. And the guy was like 'You suck. Why are you even working here?' And I got pissed. I practiced mixing day and night at work. One night I was there so long they shut down the store and locked me in."
Though he is known as the "Godfather Of Boston House Music," it wasn't one genre that created his style. The Latin, jazz, disco and Haitian music of his childhood met with the rock, hip hop and R&B of his teenage years and melded together. Then came house. Though it wasn't love at first sight.
"At Strawberries, we sold house. I heard it for the first time and said 'This is garbage. What is this crap?'" he recalls. "Then this girl took me to this club Axis. I saw a bunch of blacks, whites, Asians, Latins and gays too. Everyone was jumping up and down. And having a good time. I was like, 'These people are crazy.' But it was just people having fun. It was a friendly, relaxed environment. I was like, 'Wow this is what I need in my life.' Everyone just felt free."
On that same records store sales floor, Bruno also discovered his DJ name.
"This girl at work asked me my name, and I was reading a wrestling magazine at the time," he said. "I was trying to say 'Eddy.' And I couldn't say it. So I said 'Bruno,' like Bruno Samartino. Within a few hours the whole store knew my name was Bruno. And it just stuck."