Arts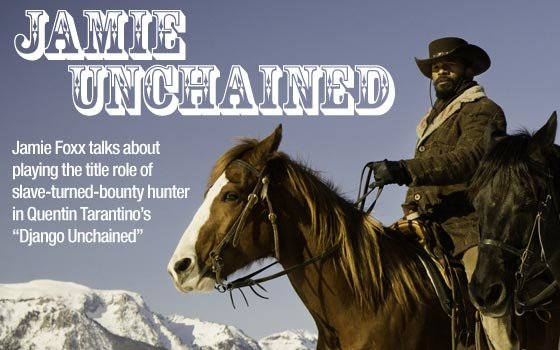 Academy Award-winning actor, Grammy Award-winning musical artist and comedian Jamie Foxx is one of Hollywood's elite, multi-faceted performers. He was last seen in "Horrible Bosses" and recently lent his vocal talents to the popular animated adventure "Rio" as a canary named Nico.
Meanwhile, Jamie recently executive produced a sketch comedy series called "In the Flow with Affion Crockett" as well as "Thunder Soul," a documentary chronicling the achievements of Houston's Kashmere High School Stage Band.  
Foxx demonstrated his affinity and respect for fictional portrayals with "The Soloist," in which he played Nathaniel Anthony Ayer, a real-life musical prodigy who developed schizophrenia and dropped out of Julliard, becoming a homeless musician who wanders the streets of Los Angeles.
In December 2006, Foxx was seen in the critically acclaimed screen adaptation of the Broadway musical, "Dreamgirls." That came on the heels of his Best Actor Academy Award-winning performance as the legendary Ray Charles in "Ray."
His big-screen break came back in 1999, when Oliver Stone cast him as star quarterback Willie Beamen in "Any Given Sunday." The versatile thespian's additional film credits include "Ali," "Miami Vice," "Jarhead," " Booty Call" and an Oscar-nominated supporting role in "Collateral."
In addition to his work in film, Foxx has enjoyed a thriving career in music. In December 2010, he released his fourth album, "Best Night of My Life," featuring Drake, Justin Timberlake, Rick Ross, T.I., and other artists. In January 2010, Foxx and T-Pain's record-breaking No. 1 song "Blame It" off of his previous album, "Intuition," won a Grammy for Best RandB performance by a duo/group with vocals.
Foxx first rose to fame as a comedian, from which he initiated a potent career trajectory of ambitious projects. After spending time on the comedy circuit, he joined Keenan Ivory Wayans, Jim Carrey, Damon Wayans and Tommy Davidson in the landmark Fox sketch comedy series, "In Living Color," creating some of the show's funniest and most memorable moments. In 1996, he launched his own series, "The Jamie Foxx Show," on the WB Network.  
I suppose I should start by asking if you'd like to comment on the recent shootings in Connecticut.
I got two daughters, man, and all I want people to do is to mourn the loss of these precious kids and their teachers and to pray that their families heal.
What interested you in "Django Unchained"?
Quentin Tarantino… Leonardo DiCaprio… Samuel L. Jackson… Christoph Waltz… Kerry Washington… Oh, man! It was like an all-star team. What's funny is that I didn't know anything about Django, and I was hearing all this buzz and then I saw online how the biggest actor in the world, Will Smith, was going to work with Quentin Tarantino.
And I was like, "Damn! There's another project I didn't know nothing about." But luckily, I somehow got a chance to meet Quentin and read the script, which I thought was brilliant. Next thing you know, I was in a room talking with him about trying to make it happen.