Arts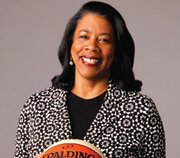 Laurel J. Richie has more than three decades of experience in consumer marketing, corporate branding, public relations and corporate management. She also has a long track record of developing award-winning campaigns that transform brands and drive business results. As president of the Women's National Basketball Association (WNBA), Richie oversees all of the league's day-to-day business and league operations.
Prior to joining the WNBA in 2011, Richie was senior vice president and chief marketing officer for Girl Scouts of America, where she was responsible for the Girl Scouts' brand, communications, publishing, marketing and web-based initiatives.
She also spent time at the advertising agency Ogilvy and Mather, where she worked on a series of campaigns for prominent clients, including American Express, Pepperidge Farm, Pond's, Huggies and Kotex. She sat on Ogilvy New York's Operating Board and was a founding member of the agency's Employee Advisory Council on Diversity and Inclusion.
Richie's pro-bono clients have included the Museum for African Art, the Hospital for Special Surgery, and the New York City Commission on Human Rights. In addition, she has mentored young women and girls as part of Big Brothers Big Sisters, the 4A's Multicultural Advertising Intern Program, Xavier University's Youth Motivation Task Force, and the Advertising Educational Foundation.
A recipient of the YMCA's Black Achiever's Award and one of Ebony Magazine's Outstanding Women in Marketing and Communications, Richie was named one of the 25 Influential Black Women in Business in 2011 by The Network Journal. A graduate of Dartmouth College with a bachelor's degree in policy studies, Richie lives in New York City.
What interested you in going from the Girl Scouts to the WNBA?
Early on in my career, when I was working at an advertising agency, I went to a very senior-level meeting and I distinctly remember the inside of the boardroom: every single seat was occupied by a man. In that moment, I made a private promise to myself that I would do everything in my power to bring more diversity to these rooms where leaders gathered and decisions were made.
As my career unfolded and I worked on a wide range of clients and gained experience across lots of different industries, the businesses I enjoyed the most were those that focused on women. This passion really came to the forefront when I made the move from advertising to the Girl Scouts and then, very clearly, when I made the decision to join the WNBA.
As the longest-running women's professional sports league in the country, the WNBA is a great product comprising 132 of the best female athletes in the world. When you look beyond the players to [the] owners, coaches, trainers, accountants and chief operating officers, it's a wonderful example of what women can achieve in sports and in business.
How do you hope to generate greater interest in the league and its superstars like Maya Moore and Candace Parker?
The summer of 2012 is turning out to be very special. We are celebrating the 40th anniversary of Title IX and the Olympics are taking place in London and we have seen increased interest in and exposure of our players.