Hip hop's premier poet Nas returns with 'Life Is Good'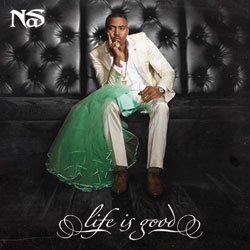 Hip hop fans, prepare to write Nas a thank-you letter. With the release of his 10th album, "Life Is Good," the rap legend has almost singlehandedly revived a genre that he himself declared was dead six years ago.
Admittedly, Nas had lost his luster since his landmark 1994 debut "Illmatic," churning out an inconsistent string of albums that flashed brilliance but amounted to more misses than hits. It was standard practice to expect mediocrity from the once-prodigal MC, the man who increasingly seemed weary on wax.
Not so on "Life Is Good," a deeply personal work of art powered by an acrimonious divorce from R and B singer Kelis, financial drama and years of chronic underachievement.
The Don reprises his role as hip hop's premier poet and its keenest urban journalist on his latest release, spitting vivid lyrics atop orchestral production and boom bap soundscapes, shifting easily from the main character in his tales to a detached narrator depicting bleak inner-city scenes.
Opener "No Introduction" is an epic rap symphony from J.U.S.T.I.C.E. League that finds Nas reminiscing about everything from syrup sandwiches, dark stairwells and out-of-order elevators to conversations with the Notorious B.I.G.
"Accident Murderers" serves as the album's magnus opus, a barrage of organs and percussion that picks up where Jay-Z and Kanye West's "Murder to Excellence" leaves off as it explores inner-city violence; a guest verse from Rick Ross – albeit more focused on wealth than unintentional homicide – heightens the track's urgency.
On the No I.D.-produced "Daughters," Nas examines his role as a father: "They grow fast, one day she's your little princess/Next day she's talking boy business, what is this?/They say the coolest players and foulest heartbreakers in the world/God gets us back, he makes us have precious little girls."
There are no requisite appearances from Lil Wayne or some YMCMB up-and-comer on "Life Is Good," no features from hot R and B artists who have recently switched to techno. If the album is calculated, it is in the direction of artistry, not commercialism.
Hip hop-soul queen Mary J. Blige breezes in for a hook on "Reach Out," a song with a throwback vibe that recalls Blige's own debut, "What's the 411?" Soul giant Anthony Hamilton delivers his signature grit on "World's an Addiction," a chilling look at the vices that dominate modern society.
Singer/songwriter Victoria Monet exudes cool on "You Wouldn't Understand," and it doesn't matter that we've probably never heard of her before, because hearing her sing is gratifying enough.  
"Cherry Wine" belongs as much to Nas as the late Amy Winehouse, who leaves a haunting reminder of her talent on a Salaam Remi track that mixes romance with vintage soul.
On "Summer on Smash," Nas calls in resident rap bouncemaster Swizz Beatz for an uptempo banger that could feel out of place, but instead becomes a club anthem re-imagined through the eyes of God's Son: Nas makes wishes on champagne bottles and splashes through Ciroc and we're not even mad at him, because he brought poetry to the party.