Arts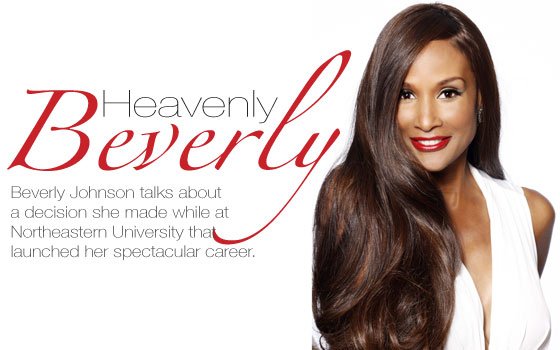 Beverly Johnson is the first African American supermodel, as well as an actress, author, activist, businesswoman and TV personality. She was the first black model to appear on the cover of Vogue magazine, and her beautiful face has graced over 500 magazine covers.
Named one of the 20th century's most influential people in fashion by the New York Times, Johnson is also the mother of successful plus-size model, Anansa Sims Patterson. Her complex relationship with Anansa is explored in the new docu-series "Beverly's Full House," which debuted on OWN (the Oprah Winfrey Network) March 31.
Johnson has a niece with Downs syndrome and is a spokesperson for the Global Downs Syndrome Foundation. Also, there's a portrait of her on display at The National Portrait Gallery in Washington, D.C. as part of "The Black List" exhibition, featuring photographs of 50 iconic African Americans.
Recently, Johnson launched a new beauty line — Model Logic by Beverly Johnson — which includes hair care products and Beverly Johnson Ponytails. It is available at Target stores nationwide.
An avid golfer, Johnson can be found unwinding on the golf course when not working on or off camera. She lives in Rancho Mirage, Calif., with her two collies, Flame and Hollywood. Here, she talks about all of the above, plus her recent performance as Brenda in Tyler Perry's "Good Deeds."
Tell me a little about your new TV series, "Beverly's Full House."
I went up to Oprah and told her I had some shows I wanted to pitch to her. I had no idea she was going to like the reality series. It's a constructive show about mother and daughter relationships. In addition, the cameras follow me around while I'm building my company. We're not going to have any buffoonery. You've got the wrong family, if that's what you're looking for.
Oprah has a certain integrity about herself and she knows what image she wants for her network. So, I felt very comfortable working with her. The show has lots of laughs and a few tears, and I do know that people will take a lot away from the show.
When I interviewed Gabrielle Union about Tyler Perry's "Good Deeds," she told me how flattered she was to have you play her mother in the film.
I adore Gabrielle Union. She reminds me of my daughter so much. She's smart … she's articulate …she's nice … she has a really sweet soul … she's ambitious ... I just adore her. I really do. And Tyler Perry is another person I admire. I'm not an actress, but if he calls, you go. Making that movie was a lot of fun.
Tell me about your new beauty line, Model Logic.
I decided to take a leap of faith and go into business for myself. I'm scared to death! But this is the hair care line of my dreams, meaning it uses the formulas that I've been chasing for the last ten years. I might not make as much money, but there are no compromises on quality here.