in the Mix
4/4/2012, 9:40 a.m.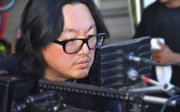 School's in session with Joseph Kahn's "Detention."
You may not know him by name, but you've most likely seen his work over the last decade. Since 1990, Kahn has directed more than 100 videos. He's worked with some of music's biggest stars, including Lady Gaga, Beyoncé, Katy Perry, Chris Brown and Justin Timberlake. In 2002, he won his first Grammy for Eminem's "Without Me" video, which also won the MTV Video Music Award's Best Video of the Year. In 2009, he was awarded the Music Video Production Association's Best Video of the Year for Katy Perry's "Waking up in Vegas."
Kahn has shot TV spots for Adidas, Burger King, BMW, Budweiser, Nascar and Playstation. Recently, he directed campaigns for Old Navy, Coca-Cola, and an ad starring Bruce Willis. In between his video and commercial work, he made his feature film debut in 2003 with the Warner Bros. motorcycle film "Torque." His second film effort is the teen horror-comedy "Detention" starring Josh Hutcherson (who is currently in "The Hunger Games") along with Arlington, Mass., native Dane Cook and Spencer Locke.
Kahn, who's traveling around the country to promote "Detention" was in Boston recently for a one-on-one about the film.
This was a labor of love for you. How long did it take for you to put this together from beginning to end?
It took a total of five years. I was on a train in Manchester, England, on another job, and I was going back to London when I had an epiphany in my head like, 'Why am I going to take it to a studio who is probably going to change it?'
I was like 'what does your heart tell you to do with this movie? What is the version of the movie you want to make?' In my head, I was like 'I don't want to have any stars in it. I don't want to revise anything. I just want to make the movie that I really want.'
The trick was if I was going to make it myself with my own cash, high schools were letting out for the summer and it needed to be shot at a high school and it needed to be done in the next month and a half. I didn't want to wait a year. At that point it was a Saturday and I said 'I'm going to make it,' and I told my producer that. We flew back on Sunday and on Monday morning we started prepping it. A month a half later we had cast it. We had all the outfits and everything bought, and we shot it literally a month afterwards.
Once the film company picked it up, did they want to change it or did they understand your vision?
It was all my cash. So, they didn't change anything. I had the option of walking away.
Did you know at that time that Josh Hutcherson would be as big as he is now?
I can honestly say that I knew Josh was going to be a big star. I was looking for that type of guy.