Who's Afraid of Post-Blackness?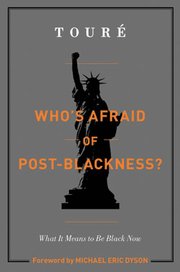 Who's Afraid of Post-Blackness?


Born in Boston on March 20, 1971, Touré is a cultural critic for MSNBC, as well as the host of a couple of shows on Fuse-TV: "Hip Hop Shop" and "On the Record." A contributing editor at Rolling Stone, his articles appear regularly in publications ranging from The New York Times to The Village Voice to The New Yorker.
Touré is also the author of a collection of essays called "Never Drank the Kool-Aid," a collection of short stories called "The Portable Promised Land" and a novel titled "Soul City." Furthermore, he serves on the Rock and Roll Hall of Fame Nominating Committee, and is a member of the Adjunct Faculty of the City University of New York's Graduate School of Journalism.
A devoted father, Touré lives in Fort Greene, Brooklyn with his wife, Rita, and their two children, Hendrix and Fairuz. Here, he talks about his new book, "Who's Afraid of Post-Blackness?"
I really enjoyed reading "Who's Afraid of Post-Blackness." What inspired you to write the book? Let me guess, the incident in college where somebody embarrassed you by saying, "Shut up, Touré! You ain't black!"
Yeah, that was definitely an inciting incident. I had already been thinking very actively about what it means to be black since I was very young. But that got me thinking about it with a different intensity on an extremely deep, personal level.
So, that sort of got the ball rolling, but the more specific influence was the success of Barack Obama, which was an indication to me that something had changed in terms of race and what it meant to be black in America.
We are not post-racial, but some things have changed. For instance, I think the younger generation has a more progressive attitude, and that definitely played to Barack's favor.
It's one thing for artists to feel that blackness can mean anything. But how can so many in the period you describe as post-blackness give up being boxed in by race if they have neither the educational nor economic opportunities to leave the ghetto locality?
What I'm saying is that you have the ability to embody blackness however you wish. I believe you are right that you see greater opportunity for education and advancement as you go up the class scale, but America is the land of rapid class ascension within a generation, within a decade, even within a year.
So, I don't think this only applies to middle-class black people. If you go into the 'hood, you'll encounter a huge variety in terms of blackness.
In the book, you talk about being from Boston, and how your parents taught you as a child that some areas of the city were dangerous for blacks. I learned that the hard way when I was in law school there in the Seventies, like the time I was refused service in a pizzeria because I was black.
That highlights the stupidity of racism. You were simply saying: "I'm just trying to give you money for the thing that you produce. I'm not looking to start a fight; I'm trying to engage in the commerce that you do every day." And their response was, "We don't want your money, because you're black." Unbelievable!