Oleta Adams delivers the hits during Jazz Festival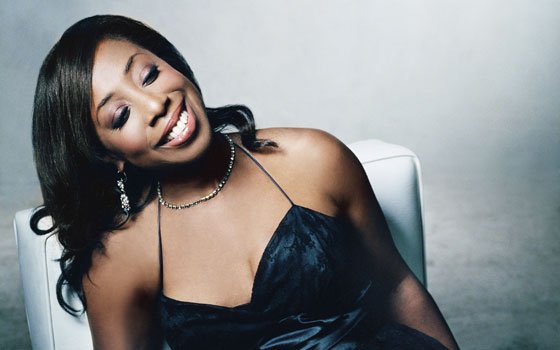 Songstress Oleta Adams blessed the mic Saturday at Berklee's BeanTown Jazz Festival. The rich alto has been making music for decades and still makes crowds scream when she plays the first few chords from her hit "Get Here" — originally written and performed by Brenda Russell —that made her famous in the 1990s.
Her too short set had festival goers dancing and singing along to her glorious vocals, but Adams really shined when she slowed down the tempo with heartfelt ballads.  
The preacher's kid got her start in church and almost had a career in opera. She decided to go in a different direction and was later discovered by the band "Tears for Fears."
Though Adams hasn't been able to reach and maintain platinum status with her later albums, the quality of her voice is awe inspiring. In addition to her eight albums including "Circle of One" and "All the Love," she has had a number of memorable covers and guest appearances like "Everything Must Change," "Tears for Fears" song "Woman in Chains" and "Many Rivers To Cross" from "Jason's Lyric."
Just before rehearsal a few days before the show, Adams took a moment to talk about musical myths, singing loud in the car and her secret addiction to HGTV.
I read that you had the chance to have a career as a lyric soprano but decided against it. Do you still lean on classical music or training?
I use it all the time. It helps me to facilitate what I'm doing. It helps me sing through different places in my voice. I've done some tough singing so I'm glad I have the training.
I still practice at home. I have to work every day on getting new songs into my voice. It's a muscle that you constantly have to work. Each song has to be in my voice. It's like trying on new clothes. I have to get it fit. Some people have told me that they heard voice lessons ruin your voice. It is a myth!
Do you play any other instrument besides the keys?
No, I don't. I think singing and playing is enough.
I think it's great that you play and sing. A lot of singers aren't instrumentalists.
Yeah it's true; I'm trying to encourage more artists to do that. When I was first starting out, I was performing with serious jazz musicians. They would cuss you out and tell you you're stupid if you had horrible charts. So I worked very diligently on my charts. Plus, I got stood up by accompanists a few times on opening nights, so I just learned to do it myself.
What kind of music do you play when relaxing at home?
I love gospel music a lot. I love music that makes me calm like classical music and jazz, too. I spend a lot of time listening to music that has no words. I listen to Alan Pasqua's "My New Old Friend."
We bought eight copies and put it everywhere. I immediately put it on in the car and listen to it over and over again. I never get tired of it. I'm also on a kick with Darmon Meader of New York Voices. Beautiful! I like Fred Hammond, too!