Yale alum Sanaa Lathan talks about the craft of acting and her latest role in the recently released movie "The Contagion."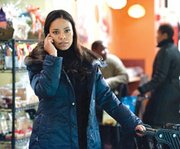 Yale alum Sanaa Lathan talks about the craft of acting and her latest role in the recently released movie "The Contagion."


Sanaa Lathan earned a Tony Award nomination for her Broadway performance as Beneatha Younger in "A Raisin in the Sun," a role she later recreated in the highly rated and critically acclaimed ABC production, alongside Sean "Puffy" Combs. Lathan most recently appeared in the title role in the comedy "By The Way, Meet Vera Stark" in an extended engagement at the 2econd Stage Theatre in Manhattan.
Written by Pulitzer Prize-winner Lynn Nottage, the play chronicles a 70-year journey through the life of a headstrong African America maid and budding actress, as well as her tangled relationship with her boss, a white Hollywood star desperately grasping to hold on to her career.
Lathan was previously seen on stage as Maggie in London's West End in the critically-acclaimed, award-winning revival of "Cat on a Hot Tin Roof."  
Currently, she lends her voice to the character Donna Tubbs on Fox-TV's animated series "The Cleveland Show."  Her additional credits include Tyler Perry's "The Family that Preys," alongside Kathy Bates and Alfre Woodard; "A Wonderful World," opposite Matthew Broderick; "Something New," for which she received an NAACP Image Award nomination for Best Actress; and the FX Network series "Nip/Tuck," for which she received another NAACP nomination.  
Among Lathan's other feature film offerings are "Alien vs. Predator;" the thriller "Out of Time," with Denzel Washington; the romantic comedy "Brown Sugar," alongside Taye Diggs, Queen Latifah and Mos Def, which reunited her with Rick Famuyiwa, who also directed her in "The Wood."  And of course everyone remembers how she wowed audiences and critics opposite Omar Epps in Gina Prince-Blythewood's romantic drama "Love and Basketball."
She received her first NAACP Image Award nomination, for Best Actress in a Motion Picture, for the romantic comedy "The Best Man." The film, co-starring Morris Chestnut and Harold Perrineau, received rave reviews and is one of the top 10 highest grossing African American films in history.  
Here, Lathan talks about her new film, "Contagion," an apocalyptic thriller directed by Steven Soderbergh and featuring an ensemble cast including Matt Damon, Kate Winslet, Laurence Fishburne, Marion Cotillard, Gwyneth Paltrow, Jude Law and Elliott Gould.
Hi Sanaa, thanks for the time. I'm honored to have another opportunity to speak with you.  
Oh, my pleasure, Kam. How have you been?
Great, thanks. I told my readers and editors that I'd be interviewing you, and they sent in so many questions I'd like to get right to them. Larry Greenberg says: "Contagion" has such an amazing cast, yourself included. Was there anyone in particular that you felt a strong affinity with whom you would like to work with again?
Well, the truth is, I only worked with Laurence [Fishburne], because Steven Soderbergh kept each of the movie's storylines separate, although they're obviously intertwined cinematically. So, all of my scenes were with Laurence.
Your role in "Vera Stark" was a marvelous, breakthrough theatrical performance. How does your preparation and performance change when you move from stage to screen?