Director Diane Paulus hits the refresh button on a Gershwin classic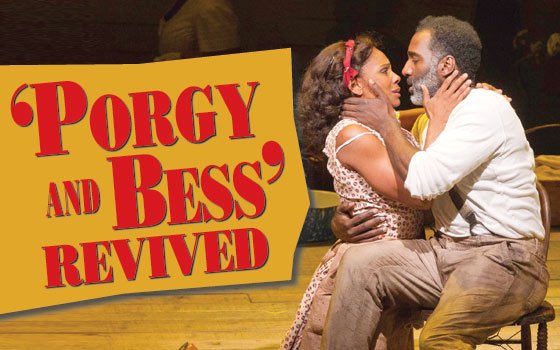 Director Diane Paulus hits the refresh button on a Gershwin classic


In the beguiling opening scene of the American Repertory Theater production, "The Gershwins' Porgy and Bess," Clara, the wife of fisherman Jake, strolls across the stage singing "Summertime" to her infant son. In one of many seductive moments in this sublimely staged production, Nikki Renée Daniels, a tender Clara, turns to show the baby's smiling face as she croons the song.
Directed by Diane Paulus, the ART adaptation is an intimate rendering of the production that George Gershwin described as "a folk opera." Contrary to rumors, ART artistic director Paulus and her collaborators, Pulitzer Prize-winning writer Suzan-Lori Parks and two-time Obie winner Diedre Murray, have been faithful to the traditional production.
All the beloved songs are intact, although the ART adaptation of "Porgy and Bess" is an hour shorter than most productions in its 75-year history, running two hours with a 15-minute intermission.  
In his popular 1925 novel, DuBose Heyward, a white native of Charlestown, S.C., created the love story of Bess, a prostitute, and Porgy, a crippled beggar, and the African American enclave of Catfish Row, a poor fishing village on the outer banks of Charlestown. Heyward wrote the libretto for the Gershwin opera and also penned many of its most memorable lyrics.
George Gershwin's score blends elements of classical Italian opera, Yiddish music and African American musical traditions, including folk music, gospel songs, blues, spirituals and the quintessential American art form — jazz.   
Like the original production, which had a sensational debut at Boston's Colonial Theatre in 1935, the ART adaptation will move to Broadway. On stage in Cambridge until Oct. 2, the production will begin Broadway previews in December.
The ART adaptation enriches its visual and aural poetry with the choreography of Ronald K. Brown, which, like the music, springs from African and African American sources.
Lighting by Christopher Akerlind, sets by Riccardo Hernandez and costumes by Esosa blend in seamless harmony throughout the ART production. The strong cast of 22 singing and dancing actors is accompanied by an 18-member pit orchestra conducted by Sheilah Walker.
The stage is covered by a scrim painted to resemble a wall of birch logs and wood pilings jut out to suggest a dock. As the scrim rises, we enter a day in the life of Catfish Row. The women cluster together and the men gather around crap-shooting Sporting Life (David Alan Grier), who wears a snazzy yellow suit and a bowler hat.  
Holding dice in one hand and drugs in another, Grier injects the first charge of star wattage in the production, which features Broadway luminary Audra McDonald as Bess, Norm Lewis as Porgy and Phillip Boykin as Crown.
Brown's choreography transforms the separate circles of men and women into taunting, teasing couples. Clara's baby cries at just the right time to trigger Jake, the charismatic Joshua Henry, to sweep up his son and lead the saucy ensemble number, "A Woman is a Sometime Thing."
Later, when Jake and his crew prepare their nets, he leads the gospel-inflected chant, "It Takes a Long Pull," flavored with a waft of Caribbean rhythm. The infectious song ends too soon.