Council candidates push anti-busing agenda
Yawu Miller | 10/27/2011, 8:53 a.m.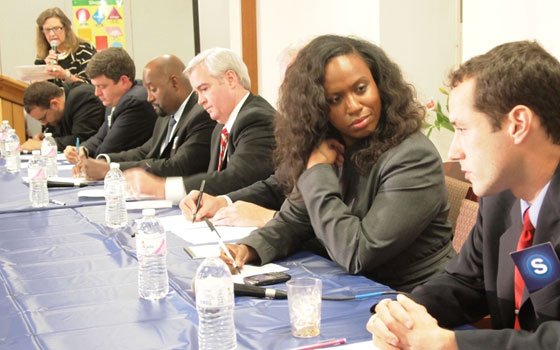 Boston's battle over court-ordered school desegregation has spanned more than four decades. And if this year's City Council election is any indication, the battle is still on.
Anti-busing sentiment has been an undercurrent in this year's race with all four white candidates publicly supporting a return to neighborhood schools. At a candidate forum last week, sponsored by wards 10, 11, 12 and 19 and attended largely by white liberals and people of color, there was little mention of ending busing, save for Jamaica Plain resident and former Libertarian Sean Ryan's call for neighborhood schools and charter schools.
But at the Ward 5 Democratic Committee's candidate forum, held in June, each of the white candidates for the council echoed Ryan's call for neighborhood schools. Incumbent Councilor John Connolly said the city could save money by cutting its student transportation budget, likening busing to "re-arranging deck chairs on the Titanic."
In many ways, Connolly got the ball rolling in March of this year, with a hearing order asking the council to examine the school's assignment policy. Councilors Stephen Murphy, Robert Consalvo, Bill Linehan, Sal Lamatina, Matt O'Malley and Maureen Feeney were among those who signed on to the order.
"It's time to end busing," Lamatina said during the council meeting. "It's time to go back to neighborhood schools."
In a meeting last week, Connolly told members of the Highland Civic Association in West Roxbury he hopes to have the council vote on a new assignment plan in June of next year.
Dissatisfaction with the city's student assignment process is widespread. Beginning in March this year, the Boston Globe began profiling parents who are trying to navigate the schools assignment process. One family profiled in the series chose seven schools, but did not secure placement for their child in any of them.
When the white council candidates talk about ending busing, they cite cost as a major concern.
"We're spending far too much money on school transportation, money that could be better spent in the classroom," said Flaherty, speaking after the ward 9, 10, 11 and 12 debate last week.
Connolly has echoed the same theme, stating that the funding saved from cutting the city's busing budget could be used to fund arts and sports programs in the schools.
But activists in the black community note that nearly half of the School Department's $75 million transportation budget — $35 million — goes to busing special education students. The School Department is also required to assume the cost for busing students to charter schools, private schools and parochial schools in Boston.
All of these items in the transportation budget are mandated by the state, according to Myriam Ortiz, executive director of the Boston Parent Organizing Network.
"And with the increase in charter schools next year, that number is going to rise," she notes.
This is not the first time elected officials have looked to eliminate the school transportation budget. But Kim Janey, a senior project director of the Boston School Reform Initiative at Mass. Advocates for Children, says she doubts the result will be different than any previous attempt to eliminate busing.