Melnea Cass design meeting sparks anger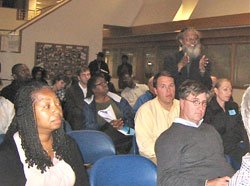 The Boston Transportation Department (BTD) held a public meeting Oct. 11 to discuss plans to improve Melnea Cass Boulevard, the busy lower Roxbury thoroughfare that cuts a curving path from Ruggles Station to Massachusetts Avenue.
The event was billed as a chance to discuss a "new vision" for a "safe and accessible, green and smart, pedestrian-friendly" corridor. Instead, it became a contentious session in which vocal audience members chided presenters for leaving out a decades-long history of planning and community input.
More than 80 people attended the meeting at Goodwill Industries, 1010 Harrison Ave. Among them were state Reps. Gloria Fox and Byron Rushing, whose districts each encompass portions of the Melnea Cass area; District 7 City Councilor Tito Jackson; and state Sen. Sonia Chang-Diaz, who arrived toward the end.
The BTD is the lead agency among a group of city and state agencies involved in the design project, to be funded by $600,000 in City of Boston funds and $7.5 million in federal earmarks and state funding. A team of consultants with expertise in transportation engineering, bicycle planning and landscape architecture has been engaged to help with the planning.
Vineet Gupta, BTD's director of planning, introduced a proposed timeline. In what he called an "aggressive schedule," the hope is to have an initial design concept by spring 2012 and a final bid-ready design by fall 2012.
Keri Pyke, director of transportation planning at Howard/Stein-Hudson Associates and the leader of the outside consultant team, gave a slide presentation about the project. She spoke of the "multi-modal" philosophy that will underlie any proposed plan.
"The design will need to serve all users. Not just pedestrians. Not just cars," she said. She noted that Melnea Cass Boulevard is a major route for buses and delivery vehicles, and a new design needs to accommodate that, even while adding pedestrian- and bicycle-friendly features.
She showed images from other parts of Boston and from cities such as Cleveland and San Francisco as examples of different ways to integrate public transit and its riders with other traffic on busy streets. She also mentioned improved parking options and "green" methods of managing storm water.
But before the slide show was over, discontent was evident as listeners fired a barrage of questions and concerns.
"How can this process happen before we know what's going to be developed?" asked Klare Allen, a longtime Roxbury community organizer. She was referring to vacant land parcels along Melnea Cass Boulevard, some of which have development proposals under review. "Aren't we jumping the gun?"
Some others echoed this sentiment, saying brainstorming now would be working "in a vacuum."
Some referred to the Urban Ring project, a state-led initiative to create cross-town links between transit routes in Greater Boston. They speculated it would be difficult to devise new goals without knowing Melnea Cass Boulevard's place in that project. Others wondered if the planners had considered the Roxbury Strategic Master Plan, a framework for future development devised in the 1990s and 2000s by the BRA and local community members.