D.C. memorial dedicated to MLK and his vision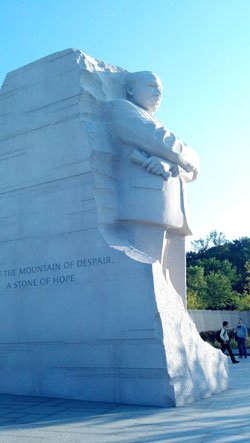 Last Sunday tens of thousands of people poured into the National Mall in Washington, D.C., for the dedication for the Martin Luther King  Jr. memorial.
The dedication, which was originally slated for Aug. 28 on the 48th anniversary of King's "I Have a Dream Speech," but was delayed because of bad weather, featured an impressive lineup of civil rights leaders and keynote speaker President Barack Obama.
The theme of justice left undone echoed throughout the morning. "Let us not be confused," Rev. Al Sharpton told the eager crowd. "This is not a memorial to someone who has died … this is a marker of the fight for justice today."
Bernice King, the youngest child of the civil rights hero, implored the audience to move beyond the "comfortable place" of the "I Have a Dream" speech to the more difficult fight for economic justice — a battle Dr. King took up toward the end of his life.
"He told us that we must become maladjusted to certain ills," she said with the same urgency her father once spoke with.
"We should never adjust to a judicial system that allows us to take a life when guilt is yet in play," she beseeched the crowd, her voice heightening. The reference to Troy Davis, who was recently executed by the state of Georgia despite serious questions about his guilt, set the crowd into a roar of approval.
"We should never adjust to a one percent controlling more than 40 percent of the wealth," King went on, a nod to the Occupy movements taking place across the country.
"As we dedicate this monument, I hear my father say — what we see here today across the streets of America and the world, is a freedom explosion," she continued. "The thunder of discontent we hear today is the thunder of disinherited masses rising from the dungeons of oppression."
King also pointed to her mother, Coretta Scott King, who she said worked tirelessly after her husband's assassination to ensure his legacy would not be forgotten.
The Martin Luther King Jr. memorial now stands alongside the Lincoln, Jefferson, Roosevelt and Washington monuments, as well as various war memorials, on the National Mall. King is the only non-president to receive such an honor.
The four-acre memorial features a 30-foot relief of King, the "Stone of Hope," in front of two other pieces of granite, the "Mountain of Despair." Visitors must pass through the "Mountain of Despair" to reach the "Stone of Hope," a reference to a line in his famous 1963 speech. Surrounding these pieces is a 450-foot arced inscription wall with 14 of King's quotes.
Controversy erupted last month when the inscription on the "Stone of Hope" was revealed — it was a paraphrased quote of King, not his actual words. Two months before he was assassinated, King instructed Atlanta's Ebenezer Baptist Church what to say at his eulogy — "If you want to say that I was a drum major, say that I was a drum major for justice, say that I was a drum major for peace. I was a drum major for righteousness. And all of the other shallow things will not matter."