John Carlos tells story behind moment in Mexico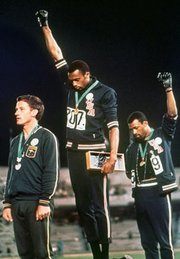 Everyone knows the image, one of the most powerful in American history — two black men, raising their fists atop the Olympic podium — but most don't know the story behind the scene.
The world may only know John Carlos, the bronze medalist for the 200-meter sprint in the 1968 Olympics, for that one moment of protest alongside gold medalist Tommie Smith, but now his new autobiography, "The John Carlos Story," reveals the untold tales leading up to and following that fateful day.
Carlos, born in 1945, grew up in Harlem, N.Y., at the height of the Harlem Renaissance. The son of a shoemaker and a Jamaican-born nurse's aide, Carlos was enamored with the Olympics, and was determined to get there someday.
The young athlete was also deeply moved by the poverty around him in Harlem. One day he saw train cars parked nearby, full of food, so he decided he would become a modern-day Robin Hood — stealing food from the train to distribute to families in his neighborhood.
Every night Carlos would go to the train, lift a 25-pound box of food on each shoulder and run back to home to give the goods to his neighbors. The police eventually caught onto his scheme, but Carlos was so fast that he could outrun them, even with 50 pounds of weight on his shoulders.
Growing up, Carlos was also fascinated with Malcolm X. The boy — his legs much shorter than the minister's — would jog beside Malcolm everywhere he went, tossing questions at him about important issues of the day.
"It was actually good exercise for me," Carlos writes. "Looking back, it must have been the most unique workout regimen for an Olympic hopeful: stealing boxes off trains and trailing after Malcolm X." Both of these prepared Carlos to become a world-class athlete, but also shows that for him, sports and politics were always intertwined.
In high school, Carlos joined his school's track team. Without money or equipment, the team ran sprints in the school cafeteria, dodging puddles of ketchup leftover from lunchtime. But Carlos excelled — setting records across the region — and soon found many prestigious universities eyeing him, like UCLA, Berkeley and San Jose State.
But Carlos had a tough time securing a track scholarship from these schools because he received poor grades as the result of his dyslexia. Nevertheless, he received a scholarship to East Texas State University and headed there with his new wife, Kim, and their baby daughter, Kimme.
In the racial turmoil of the 1960s, black athletes began to join in the struggle. By 1967, the Olympic Project for Human Rights (OPHR) was formed, and Carlos immediately jumped on board. The OPHR's demands included banning South Africa from the games and restoring Muhammad Ali's heavyweight boxing title. Until those demands were met, the OPHR encouraged black athletes to boycott the 1968 games.
Martin Luther King Jr. was also instrumental in this movement, and planned to travel to Mexico City to show support for black athletes. This support deeply moved Carlos.