Ferdinand plans underway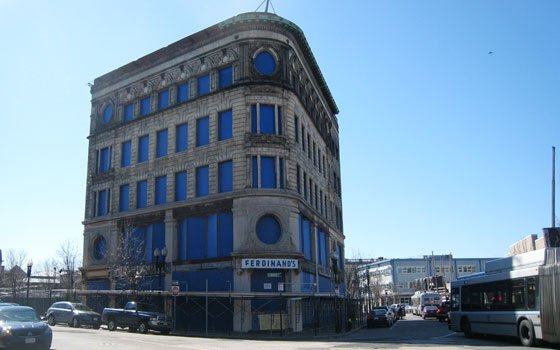 Residents voice ideas, concerns at Dudley meeting
Seven months after Mayor Thomas Menino announced a $115 million development project at the Ferdinand site in Dudley Square, planning is underway and groundbreaking is on track for spring of 2012, according to the city's Property and Construction Management Department (PCM).
"I can say, unequivocally, the train has left the station — this project is real," said Joseph Mulligan, PCM's deputy director of capital construction, at a Sept. 29 meeting of the Dudley Square Vision Advisory Task Force. "Six months from now, we're going to start backing up trucks to the site."
The result will be a new headquarters for a consolidated Boston Public Schools department. In addition, the new construction will create ground-floor retail spaces and public areas, such as community meeting rooms.
The meeting at Central Boston Elder Services in Dudley Square was the Ferdinand project design team's first chance to present its plans to the Task Force, made up of community and business group representatives and members of the Roxbury Strategic Master Plan Oversight Committee. State Sen. Sonia Chang-Diaz and District 7 City Councilor Tito Jackson, both of whose districts include Dudley Square, were present for part of the evening.
Over the course of the meeting, details emerged: The new building will be approximately 152,000 square feet and six to eight stories high, possibly with varied roof height. The offices will hold 522 employees of BPS and other education- or youth-related agencies. Ideas for retail businesses include food service (restaurant or lunch spot), pharmacy and boutique, with some spaces as small as 1000 square feet. Other municipal services, such as a place to pay parking tickets or obtain permits, may also be onsite. The target completion date is summer 2014.
The design firm Sasaki Associates, of Watertown, Mass., was selected in June, said Maureen Anderson, a senior project manager with PCM. Prior to Sasaki's involvement, an assessment of the school department's needs was conducted by Gensler, an architectural firm with expertise in municipal buildings.
Victor Vizgaitis, of Sasaki, introduced Francine Houben, creative director at Mecanoo, an architectural firm from The Netherlands partnering with Sasaki in the Ferdinand design.
Houben, in town from Amsterdam for the week, said plans are still at a very early stage and would incorporate community input.
"Don't expect design yet," she said. "First we have to listen to you."
She emphasized that retail and public spaces would be on the ground floor or first two floors, with administrative offices above. The main entrance to the office building may face Dudley Station, she speculated.
Among her slides was a drawing showing a widened sidewalk around the point of the old Ferdinand building's triangular facade, with café tables to form an inviting meeting spot in the heart of Dudley Square. "Imagine," she said, "How can you make the Ferdinand and the buildings around it more alive? Maybe just by giving it more public space."
Houben lavished praise on the 360-degree view she had glimpsed from the Ferdinand rooftop of both the downtown skyline and the city's green space.