Art of the Body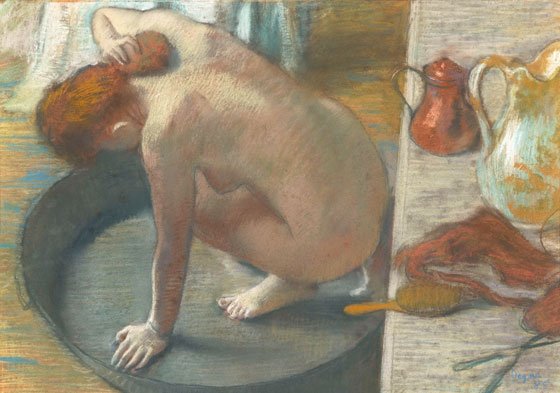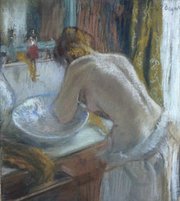 Noted French artist Edgar Degas' exhibit at the MFA displays his talent for capturing the human form
When the great French painter Edgar Degas was starting out, he sought advice from a revered master, Jean Auguste Dominique Ingres. The elder artist told him, "Draw lines, young man, draw lines."
Abundant evidence that Degas took his advice is assembled in the ravishing exhibition "Degas and the Nude" on view through Feb. 5 at the Museum of Fine Arts, Boston (MFA). Organized by the MFA and the Musée d'Orsay, Paris, the exhibition is the first to focus on the artist's career-long exploration of the human figure.
The MFA is the only U.S. venue of the exhibition, which presents 160 works — 140 by Degas and 20 by artists who were his influences, contemporaries and successors. Drawn from more than 50 lenders throughout the world, many works are on view in this country for the first time. The exhibition was jointly curated by the MFA's George T.M. Shackelford and Xavier Rey of the Musée D'Orsay, where it will be presented from March 12-July 1, 2012.  
The first galleries begin in the mid-1850s, when Degas, in his 20s, was copying old masters in Paris and Florence and aspiring to a career as a history painter. Alongside his ambitious oils of Spartan athletes and a scene of war in the Middle Ages are works by artists he admired, including Francisco Goya. Two prints from Goya's satirical depictions of human monstrosity, "Disasters of War" (1810-1814), show naked bodies dangling from tree limbs and strewn on the ground.
A Degas oil painting, "Interior" (ca. 1868-1869), offers an early glimpse of his ability to use chiaroscuro effects of light and darkness to heighten a human drama. Here, lamplight falls on the glistening taffeta of a woman's dress as, standing in shadow, a man looks on. Although it is the only work on view with fully clothed subjects, the painting bristles with erotic tension.
Nearby are the preparatory nudes Degas sketched for these oils. In a language of lines, Degas conveys human vulnerability. Some of these early gestures  — arms raised in self-defense or opposition—recur in his later works.
Already, we can see Degas focus on the fundamentals that will animate his career: the use of line, light and shadow — and later, color — to render the truth of the human body.
These elements are at play in the absorbing series of monotypes — single, black-and-white prints —he did of brothel scenes in late 1870s. In one, "The Serious Client" (1876-77), a Charlie Chaplain-like male is welcomed by a trio of fleshy ladies, their faces and bodies subtly expressing amusement, appraisal and invitation.
Lit by lamps, candles and fireplaces, the candid, intimate scenes vary from cartoons to nocturnal glimpses of women alone, together or with clients. Compelling in their gritty realism, the images convey respect and even sympathy for their world-weary subjects.
Some of his most affecting monotypes are rough-hewn, earthy images, In "La Toilette" (ca. 1880-85), a bulky woman squats as she performs her morning ablations. Others are endowed with a lyrical delicacy. "Girl Putting on Her Stockings" (ca. 1877) shows a slender figure softly framed by the drapes and folds of her bedding.