Harvard Univ. Hip Hop Archive hosts 9th Wonder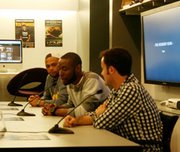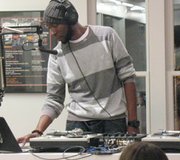 As he introduced a man he said he'd been blessed to call both colleague and friend for the last few years, noted African American studies scholar Dr. Mark Anthony Neal recalled his first time meeting hip hop producer 9th Wonder.
"We're just sitting there, waiting for our [radio interview] to get started, and we start talking about our kids and parenting. And 9th Wonder starts talking about going to school conferences and open houses and [other] parents looking him up and down like, 'So what do you do for a living?' [And he tells them], 'I'm a hip hop producer.' And they're confused, right? And he said to me, 'Somehow, [people think that] because you're a hip hop producer, you're not supposed to be involved with raising your kids," said Dr. Neal. "At that moment, I knew this was a special cat."
Indeed, Patrick Douthit, known by most as 9th Wonder, is much more than just a hip hop producer. He's a husband, a father, CEO of his own record label, member of the Universal Zulu Nation, an NAACP ambassador and a college professor.
And yet, for 9th Wonder, hip hop is where it all started; it's the axis around which his innovative, multifaceted career has rotated for years.
Since registering on rap music radars in the early 2000s, the musician has worked with some of hip hop and soul music's biggest stars, including Jay-Z, Erykah Badu, Destiny's Child, De La Soul and Mary J. Blige. He now guides the careers of more than a dozen artists and producers signed to his Jamla/IWWMG record label.
For the Grammy Award-winner, the last decade has been full of earnest effort to strike the ultimate balance between beats, rhymes and life.
It made sense then that Harvard University's Hip Hop Archive would choose the beatmaker to kick off their new "Cutting Edge" series, which Archive Director Dr. Marcyliena Morgan described as an opportunity for hip hop students and fans to learn from artists. She said, "… work makes us feel and makes us think about who we are, where we're going and where we want to be."
Dozens of people packed the Archive's headquarters last month to hear 9th Wonder discuss how he's created a unique and respected musical style and career through hip hop. The audience also got a first look at "The Wonder Year," a film by Kenneth Price that documents in crisp, colorful footage a year in the life of the producer.
Scenes of 9th spinning old soul records and pounding the keys of his beat machines during studio sessions are mixed with clips with of the producer thoughtfully reflecting on his personal and professional evolution; humbly accepting the praises of hip hop heavyweights like DJ Premier and Drake; spending time with his two daughters, and teaching 20-  something Duke students how to sample a record.
As the documentary unveils how 9th discovered and honed his talent, it pays particular attention the role education played in helping him determine his path and values as a young man.