Simmons reflects on tenure at Brown Univ.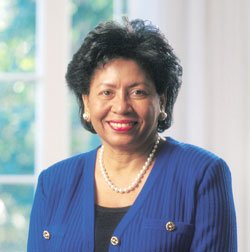 PROVIDENCE — Ruth Simmons made a big news splash a decade ago when she was named president of Brown University, making her the first black president of an Ivy League school. She made another three years later by naming a committee to investigate Brown's past role in the slavery and make recommendations on possible reparations.
Reflecting on her tenure as she prepares to retire in June, Simmons, who is 66, does not mention her historic appointment in 2000 or the daring "Slavery and Justice" report among her most significant accomplishments as president of the prestigious university in Providence, R.I.
Instead, she lists the top three as Brown's full adoption of need-blind admissions, 20 percent growth in the faculty and a new second campus, where expanded laboratory space has increased the flow of federal research dollars.
Brown adopted need-blind admissions for undergraduates in 2002 and then in 2008 stopped including student loans in the financial aid packages of those whose families earn less than $100,000. Slightly more than 40 percent of Brown undergraduates receive need-based grants, about a third are minorities and 16 percent are first-generation college students.
The number of faculty has increased to 687 this year, up 98 since 2001. Additions have been made across academic disciplines. At 19 percent minority, the faculty is more diverse, with Asians accounting for much of the growth.
"We had stagnated for a while with a faculty that really had been capped in size," Simmons explains. "New fields develop, opportunities arise, and having a cap on the faculty is one of the worst things that you can actually do. So the cap was removed."
As were limits to the college's physical size. With no room to expand on the existing campus, Simmons oversaw the development of a second campus less than a mile away. Nine renovated buildings house molecular research laboratories, a public health program, a mathematics research institute and the Alpert Medical School, which relocated in August.
"I think, of all the things I have done at Brown, that will probably have the longest-term consequence for Brown because it will enable us to have more research space, enable us to expand the size of the faculty," Simmons says. "It will enable us to do the things that a research university inevitably has to do to be competitive."
The new campus has already produced financial dividends. Research funding from all sources has jumped by 83 percent since 2000. Medical research grants from the federal National Institutes of Health make up most of the increase.
"Our expectation when we started this process was by making these opportunities available for our faculty, freeing the space, building the infrastructure, that in time the faculty would have the opportunity to compete for these grants," Simmons says. "That has turned out to be true."
In the university's announcement last month of her retirement plans, Chancellor Thomas J. Tisch, who presides over the Brown Corporation and Board of Trustees, said: "Ruth's leadership at Brown has been monumental. From the moment of her arrival in Providence, Ruth has inspired our community to raise our sights, while providing the wisdom, direction and leadership to achieve our highest aspirations."