Anonymous Boston strikes a chord on urban violence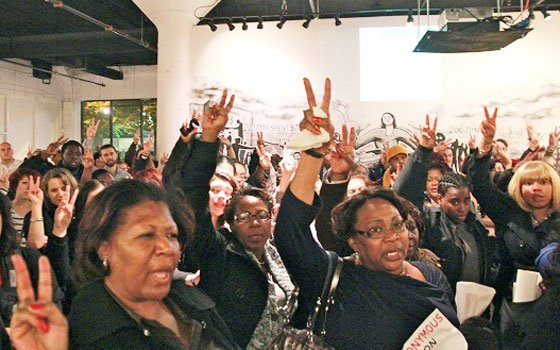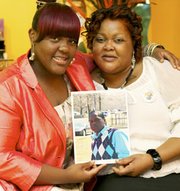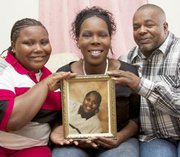 The cheerful smiles of Eyanna Flonory and Amani Smith beam down from a large portrait of the mother and son mounted on the wall.
Their bright faces are visible from the street outside through the big picture windows of Fenway art gallery The Fourth Wall Project.
What can't be seen from the street — what's missing from the wall altogether — are the faces of the people who posted anonymous, hate-filled comments about the young family shortly after their deaths.
Flonory, Smith and two others were murdered outside their home in September 2010. Dubbed the "Mattapan Massacre," the mainstream media provided exhaustive coverage of the incident. And with every new article, the number of anonymous comments increased and became more and more malicious.
"I read [the] comments … and I was like, how could you possibly say that about anyone, let alone a 2-year-old?," said Joanna Marinova, a media arts activist.
"Disgusted" by the anonymous comments, Marinova decided to channel her anger into action.
After connecting with Dorchester-based, nonprofit Mothers for Equality and Justice, Marinova spent the next nine months building relationships with Boston families who'd lost a child to violence, listening to their stories and cobbling together writings and photos of the youth, their families and friends.
This November, she, with the support of local organizations and institutions including Press Pass TV, The Louis D. Brown Peace Institute, The Boston Phoenix, The Museum of Fine Arts and StreetSafe Boston, gave birth to "Anonymous Boston: Words of Mass Destruction," a two week exhibit meant to tear down the wall of anonymity that commenters hide behind and shed light on murdered youths' lives — not just their deaths.
As much a memorial as it was an exposé on the role that the media plays in negative portrayals and stereotypes of urban youth and communities, the images and words on display were alternately beautiful and haunting, encouraging and disheartening.
One thing was certain: Anonymous Boston was unsettling, and that's exactly how Marinova intended it.
"This exhibit wasn't meant to make anyone feel comfortable," she said. "… My goal is to shake you up to your roots so you can feel that we're losing our real currency. Everybody's talking about foreclosures, but our children are our real currency," she said.
Life-sized portraits of murdered youth — some smiling, some looking more serious — consumed the the gallery's stark white walls, while their writings — some from essays and job applications, others taken from letters and poems, flanked the walls beside their images.
Their words painted a picture of young lives full of promise.
"Ironically, many of these young people wrote incredible works on peace and community before they died," Marinova said. "There are messages in these lives that we're missing because we're not listening. I know that if we heard some of these stories a little more, things would be different, because really, the journey begins when that coffin closes, for many of these families."
While grieving and healing are certainly part of that journey, having the opportunity to tell the true story of their loved one's life can be an essential for families of murder victims. Throughout the exhibit, placards next to each child's photo document their parents' thoughts and feelings about the sadness, anger and confusion of their loss and the urgent need to stop more youth from dying.