in the Mix
11/15/2011, 7:05 p.m.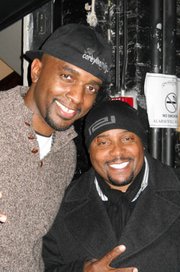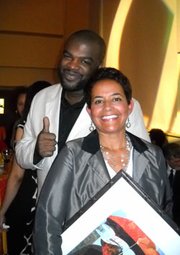 Food + Music … What more can a girl ask for?
Comedians Arnez J. (r) and Corey Manning enjoy a moment backstage after the show at The Wilbur Theatre, Saturday, Nov. 12. (Colette Greenstein photo)
George "Chip" Greenidge Jr. and Lisa Simmons were Community Catalyst Honorees at Madison Park Development Corporation's Anniversary Gala Nov. 4. (Colette Greenstein photo)

WHERE Magazine's 75th Anniversary Party
It was a hot night at the South End hotspot Noche to celebrate Where® Magazine's 75th Anniversary Party. I arrived toward the tail end of the event — fashionably late is what I like to say — but I was still able to indulge in the tantalizing Latin cuisine. The fried plantain chips were delish, as well as the quesadillas and lobster on tostones — at least I think that's what it was. And let's not forget the Ketel One cocktails, which were fun and fruity.
Noche is modern sleek and yet very intimate all at the same time, with a bit of attitude that I like. It's a fab lounge for a date or a fun night out with friends. I say add it your list of places to hit up in the city!
The Brahmin American Cuisine and Cocktails
Another new restaurant that hit the Boston scene in the last several months is the Back Bay boite, The Brahmin, formerly known as 33 Restaurant and Lounge. As I entered the restaurant it felt familiar and comforting. I think it's because of the warm color tones combined with the exposed brick and soft lighting.
My favorite spot in the restaurant is the VIP lounge area, which has deep-seated and very comfortable couches that you can just sink into and relax. Checking out the menu, it was good to see some familiar staples such as mac and cheese, beef short ribs and flatbread pizza. The beef short ribs and pizza were good, and the mac and cheese doesn't quite compare to the creaminess of others that I have tried, but it was still a hearty meal for a good price. With our prime seats at the bar, we had a ball. By the time we were ready to leave, the DJ had taken up his post at his booth and was spinning some old school hip hop and folks were flooding in after a long hard day of work. 
Arnez J. and Mary Mary at The Wilbur Theatre
It was a weekend of music and laughter at The Wilbur with comedian Arnez J. and gospel duo Mary Mary. Always sure to make you laugh, Arnez handily accomplished that with his impressions of his mentally challenged brother. It may not be politically correct to laugh, but after seeing him perform his brother's movements, his inflections and facial expressions, you can't help but join in the fun and laugh.