A war, a dog, and now a second chance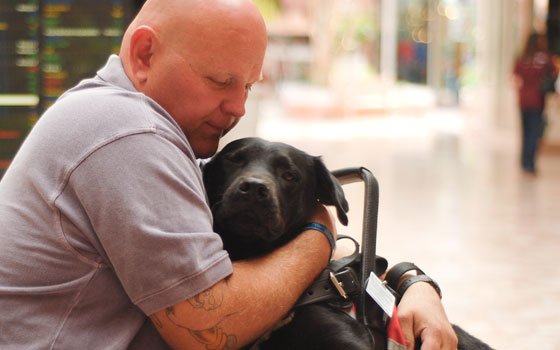 Dogs help wounded veterans deal with disability and emotional trauma, but availability is scarce
The war in Afghanistan turned the athletic, outgoing Christopher Maddeford into a broken veteran. The Army sergeant came back to Chelsea in 2003 sore and depressed, having trouble walking, sleeping and remembering things. Unable to keep a job or any relationship, he soon started abusing pain medication.
Everything changed two years ago, when assistance dog A.J. put Maddeford's life back on track. The affectionate 80-pound black Labrador retriever trained to perform dozens of tasks has helped the veteran keep his job, start dating and enter college. Maddeford has even controlled his addiction and cut back half of his medications.
"I owe it all to A.J.," says the veteran. "I wouldn't be here working today, helping other veterans, if I didn't have him."
A small but growing number of assistance dogs are trained in the U.S. to serve people like Maddeford — one of a swarm of soldiers that come back from Iraq and Afghanistan sustaining lifelong injuries. Every year organizations prepare dozens of skillful canines ready to pull drawers, push doors, fetch items, and even bark for help at their owner's command, adding to the 700 such dogs working for veterans.
But not even the increasing numbers can match the ever-growing stream of veterans in need. More than 43,000 soldiers have come back wounded from Iraq and Afghanistan — a number that does not include soldiers with post-traumatic stress disorder, a condition canine assistants now also address.
"We have more veterans on our waiting list than we have dogs in the program," says Lori Stevens, founder and executive director of Patriot Paws, a Texas-based nonprofit that trains 12 to 20 assistance dogs for veterans every year. The organization is struggling to fill a waiting list of 42 veterans.
John Moon, chief communication officer at NEADS / Dogs for Deaf and Disabled Americans, says his organization has the same problem.
"Even if all of the assistance dog programs got together to supply dogs [only for veterans], we couldn't meet the demand. In the military, the demand is so high that we are talking of thousands," he says. The Princeton nonprofit founded in 1976, which trained A.J. for Maddeford, prepares nearly 50 dogs yearly.
The challenges to deliver more assistance dogs to veterans start with the amount of care each animal requires to be ready for the job, which adds up to tens of thousands of dollars.
For months, dozens of people are involved in socializing, training, feeding and providing veterinary care for each handpicked bred dog. The animal is taught more than 50 tasks that buffer mobility impairments, and learns to execute them in any environment, from busy shopping malls to tiny elevators.
When Maddeford falls, for instance, he leans on A.J.'s massive back and gets up. When he drops something, A.J. picks it up. When his anxiety escalates, A.J. licks Maddeford's face until the tension is gone.
Peter Gorbing, president of Assistance Dogs International, an institute that accredits assistance dog organizations worldwide and sets training quality standards, stresses that those dogs need enough socialization to face any situation in public "calmly and unobtrusively." This process, he says, takes more than a year, and many dogs fail because they show fear, aggression or poor attention span. At Moon's organization, a third of the dogs flunk the training.