A raging battle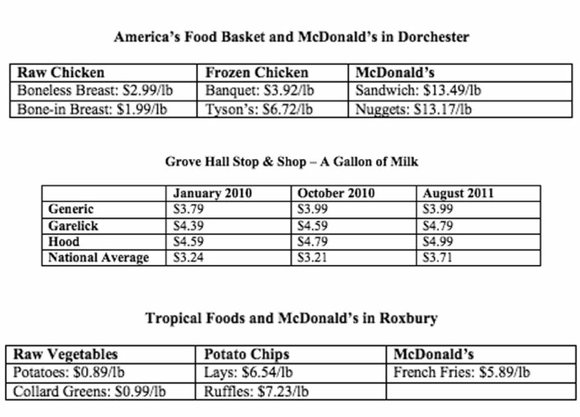 Diet of fruits and vegetables is ultimately cheaper, but Bostonians are hooked on fast, convenient food
Patricia Canning feels the burden of America's obesity epidemic every day. As an emergency medical technician, the 24-year-old Hyde Park resident carries patients on a stretcher to an ambulance, then transports them to a hospital. The more Americans pack on the pounds, the more difficult her job becomes.
"When I'm working, if I take ten patients a day, at least seven of them are overweight," she said. "It could be all ten." To accommodate bigger bodies, ambulances frequently double the truck's manpower and use extra-wide bariatric stretchers, which can carry up to 700 pounds and feature adjustable handlebars.
"With me being athletic in high school and still now — I go to the gym — I'm able to carry a lot of weight, but it's difficult," said Canning, who is also studying to become a nurse.
Canning tells the story of a co-worker who fell trying to carry a patient up a flight of stairs. "He hit his face on the concrete," Canning recalls. "He has scratches on his ear, and he [now] has a huge line of scar tissue from the outside of his eye to his hairline. That was crazy."
In Boston, 23 percent of all adults are obese. Low-income communities of color are disproportionately affected — 32 percent of blacks, 30 percent of Latinos, and 33 percent of those with an income less than $25,000 are obese, according to the Boston Public Health Commission.
These numbers are rising dramatically — the obesity rate in Massachusetts has nearly doubled since 1995 — and with them, rates of chronic diseases like diabetes, high blood pressure, heart disease and cancer have also risen.
Although the link between diet and overall health is well-documented, maintaining a nutritious diet is not always easy, especially for low-income communities of color. Like many other social justice issues, disparities in food access and health frequently fall along racial and economic lines. While Boston is among the healthiest cities in the nation, disparities in food access persist, and for many people, have become a serious roadblock to health.
 Affordability is the most basic obstacle to healthy eating, especially in the economic recession. The cost of food is steadily increasing, leaving many families unable to afford even the basics.
At the Stop and Shop in Roxbury's Grove Hall for instance, a gallon of generic milk jumped 20 cents between January 2010 and August 2011, from $3.79 to $3.99, and a gallon of Hood brand milk increased 40 cents, from $4.59 to $4.99. Other staples like eggs and bread have also gone up. In January 2010, a dozen of large, brown Stop and Shop brand eggs were $1.99. In August of this year, the same carton was $2.29.
 Bostonians are taking notice. "Healthy food, you're gonna have to spend, you're gonna have to dig deep," said Dorchester resident Percy Bobbitt. "The economy's messed up right now, sometimes the money's just not there."