Company One's 'Red and Brown Water' a hit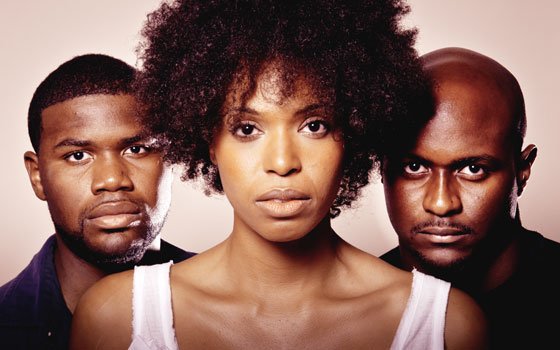 Spellbinding from the start, "In the Red and Brown Water," the play now at the Plaza Theatre, Boston Center for the Arts, opens with a view of its nine-member cast in silhouette. Humming in a low rhythm, they come forward on the tiny stage in unison, like dancers. When they stop, they resemble a pantheon of deities.
As the lights come up, all the actors leave the stage but two. The tall figure who was in their midst, a sprout of curly hair in a ponytail atop her head like a crown, is Oya, a slender beauty in red track shorts who is about to run a race. Her mother, broad of build, teases and bids good luck to her daughter.
"In the Red and Brown Water" is the first in a trilogy of plays by African American playwright Tarell Alvin McCraney. A companion production combining the other two plays, "The Brothers Size" and "Marcus; or the Secret of Sweet," will join it in repertory from Nov. 10 through Dec. 3.
Presented by Company One, this staging is only the second production of the entire trilogy since its sensational U.S. premiere in 2009 at the Public Theater in New York.
McCraney, 31, currently playwright in residence at the Royal Shakespeare Company, has already received multiple prestigious awards, including the 2009 New York Times Outstanding Playwright Award for "The Brothers Size." A 2007 graduate of the Yale School of Drama, McCraney was raised in a Miami housing project.
He sets his trilogy in public housing in the fictional bayou town of San Pere, La. While each character remains an entirely believable member of a family and community, he endows San Pere's inhabitants with epic undertones as they go about their daily life.
Directed by Megan Sandberg-Zakian with simple and evocative sets (Erik D. Diaz), costumes (Sarah Patterson Nelson) and lighting (David Roy), the staging and utterly believable acting mine the interplay between the every day and the mythic in McCraney's luminous script, which freely blends raunchy comedy and stirring poetry. As in life, the play makes quick turns between humor and joy as well as tension and loss.
While Oya (Miranda Craigwell) and her Mama Moja (Michelle Dowd) converse, the other actors watch behind the slatted walls that form the simple stage set. Also adding a stylized twist to the naturalism, the characters describe what they do as if observing it, a technique that expresses the character's interior state.
While she and her daughter exchange a loving gaze, Mama Moja says, "They stand for each other."
Oya is the axis around which the other characters turn as they interact with each other and her. A young woman with great self-possession and heart, she must reckon with her life. What will she do? What does she want? She has the blues. Although she suffers great losses and may long for a baby and a man, the playwright doesn't entirely account for the depth of her melancholy.
Yet right away, Oya and her family and neighbors become important to us.