Black lawyers welcome two new law school deans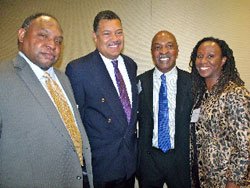 Each year the Massachusetts Black Lawyers Association (MBLA) has an annual fall reception that provides an opportunity to recognize diverse individuals who have made significant contributions to the state's black legal community.
This year's reception was hosted by McCarter and English Attorneys at Law last week and it welcomed two new bright and shining stars to the state's black legal community: Camille A. Nelson, dean of Suffolk Law School and Vincent Rougeau, dean of Boston College Law School.
MBLA also recognized Robert V. Ward, who was the first dean of the University of Massachusetts, Dartmouth Southern New England School of Law —  the state's first law school.
Dean Nelson received a bachelor's degree from the University of Toronto and law degree from the University of Ottawa Faculty of Law and went on to receive a master's degree from Columbia Law School. She clerked for Justice Frank Yacabucci of the Supreme Court of Canada before working as an associate at McCarthy Tetrault, Canada's largest law firm.
Dean Nelson was a visiting professor at Washington University's St. Louis School of Law where she became the Dean's Distinguished Scholar in Residence. From 2000 to 2009, she was a member of the faculty of the St. Louis University School of Law where she was named Faculty Member of the Year and received the Faculty Excellence Award.
On Sept. 1, 2010, she became the first woman and the first woman of color to become the dean of Suffolk Law School in the school's 104- year history.  
In her speech to a crowded room of black legal professionals representing various age groups and divisions of law, Dean Nelson spoke of the importance of talking about excellence and diversity simultaneously.
"Too often people say they want one or the other," Dean Nelson explained, "but they overlap and you can achieve them simultaneously."
She was proud to say that in this past year Suffolk has had the most students of color in its entering class than the school has ever had before.
"That's almost a quarter of our entering class and we're the fifth biggest school in the country so that's over 125 students," she said. "That's a big deal and I think that's important to celebrate because that's hard work and that doesn't happen by accident. That doesn't happen without making people accountable. It takes work and commitment on the part of the people in the building."
Dean Nelson also mentioned some upcoming events taking place at the University, including the launching of the first Native American Law Clinic in the eastern part of the United States this November.  
The MBLA has approximately 200 active members, and it has served the African American legal community since its inception in 1973. Through trainings, continuing legal education and mentorship programs, the MBLA reaches out to more than 500 minority lawyers in Massachusetts and provides opportunity for career development and advancement.
Dean Rougeau graduated from Brown University where he majored in international relations, and then later received his law degree from Harvard Law School. He worked as an assistant and associate professor at Loyola University of Chicago School of Law before joining the faculty at Notre Dame Law School.