Broadening the pie
Yawu Miller | 5/25/2011, 12:46 a.m.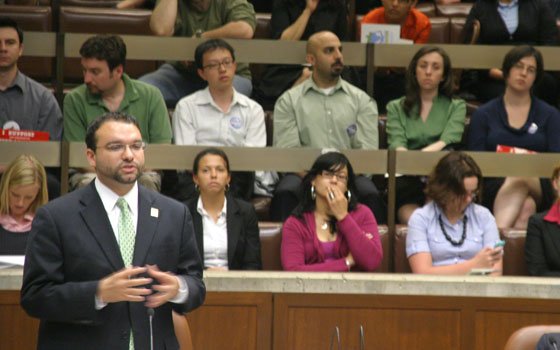 At-Large City Councilor Felix Arroyo has built relationships across the city — while still holding
For City Councilor Felix Arroyo, opportunity recently came in the form of a vacated office in City Hall.
When City Council's central staff moved into a larger office, they left behind an empty room the councilors wanted to use as a meeting space. Arroyo argued for naming the room after Thomas Atkins, the first African American to serve on the council.
He teamed up with Council President Stephen Murphy, drafted a resolution and got a unanimous vote for the designation during the April 6 council meeting. It was the first time a room in City Hall was named for a person of color.
"This is a rare opportunity to recognize a person who has made history here in Boston," Arroyo said during the meeting. "Councilor Thomas Atkins was a civil rights trailblazer and a champion of social and economic justice."
The naming of a meeting room is a largely symbolic act, but in the world of city politics, the small acts can be as important as the large ones. And in his first year and a half in office, Arroyo has used the same combination of windows of opportunity, collaboration and good timing to score some significant wins.
One such opportunity came last year when Mayor Thomas Menino announced plans to close local branch libraries in response to a tight city budget. The plan elicited fierce resistance from activists across the city. Arroyo joined forces with People of Boston for a Better Library to fight the closures and ultimately worked with the Boston Delegation of the state Legislature to secure additional funding for the city's library branches.
"A lot of city councilors, frankly, were afraid of bucking the mayor," said Kelly Bates, a Roslindale resident active in the fight against library closures. "[Arroyo] saw an issue that was relevant to people's lives and provided leadership."
In addition to the benefit of saving libraries from closures or reduced hours, Arroyo's foray into the issue garnered him new friends.
"I found myself getting to know communities I didn't know well," he said. "I was able to work with colleagues who were facing branch closures."
That exposure to voters in the far corners of the city can't hurt, especially in an election year where Arroyo and the council's other three at-large members are vying against former top vote-getter Michael Flaherty, who is seeking to regain the seat he gave up two years ago when he ran for mayor.
Arroyo will also face councilors Ayanna Pressley, Stephen Murphy and John Connolly.
Each of the at-large councilors will be challenged to make the case to voters that the issues they championed were relevant to the lives of voters, a task made all the more difficult by a relative lack of coverage of local issues in the news media.
"I see him at a lot of community meetings," says political activist Sarah Ann Shaw of Arroyo. "I know he's a hard worker. But the issues he's working on don't get the same kind of space in the media as Connolly with the expired food."