Budget cuts threaten youth summer jobs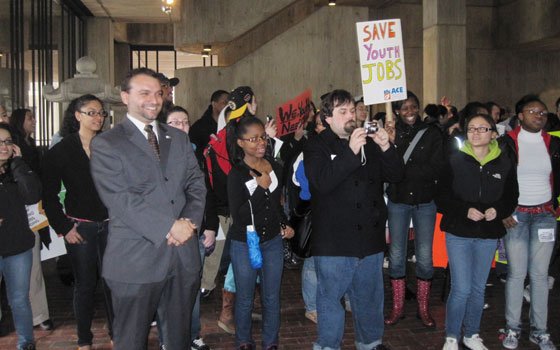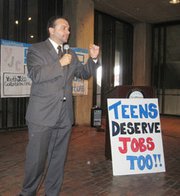 City youth face a tougher challenge finding jobs this summer, and at least one city official is citing federal budget cuts as partly to blame.
"We had about 10,000 summer jobs last year," Boston At-Large City Councilor Felix Arroyo said. "We're looking at a loss of 2,400 of those summer jobs due to state and federal cuts. That's a lot."
Arroyo went on to say that despite cuts at state and federal levels the city has stayed true to its commitment to level-fund youth summer jobs.
"There are three funds that go into this," he explained. "There's the 'city fund,' the 'state fund' and 'the federal fund.'  The 'city fund' level-funded but the state gave us a cut and the feds didn't just give us a cut; they zero-funded. So we will be getting no federal dollars towards our summer jobs program whereas last year we got $2 million."
Boston's situation is not unique during what has been referred to as a "fragile economic recovery." In Illinois, 18,000 youth jobs will be lost statewide due to federal and state budget cuts. There, as well as in Boston, low-income youth in underserved communities will be the hardest hit.
"The vast majority of the summer jobs in the city go to low-income youth and that is going to be mostly young people of color, going purely by socio-economic statistics," Arroyo said. "We're talking about neighborhoods like Roxbury, Jamaica Plain, Mattapan and Dorchester. Young people in these neighborhoods are going to be completely devastated. To me, this can be an impending crisis. They're going to be on the streets, nothing to do and mom and dad are going to be at work all day. Anyone can guess this is a recipe for disaster."
That's why his office fighting to doing something about it. Arroyo, the chair of the city council Committee on Labor, Youth Affairs and Human Rights, held a hearing last month on youth summer jobs at City Hall. More than 250 Boston youth rallied at the hearing to testify about how much a summer job meant to them and showing how tragic the loss of one would be.
One teen, Paul Gonzalez, said "My first summer job taught me the value of hard work.  I've seen my mother and my father working hard.  ABCD and the Boston Youth Fund gave me the opportunity to work, get what I need and also give to my brothers and sisters.  I want to make my parents proud."
Youth summer jobs provided by the city have served as opportunities for many city youth to earn an income for themselves and their families through the summer — and to experience the responsibility of holding a job.
Arroyo's office, with support from the City Council, is looking for ways to save some of the summer jobs lost to budget cuts.
"We are working with the federal government and hope that they change their ways and understand the importance of summer jobs for our city, for the entire state and for our country," he said. "We're working with the state to see if they would increase [funding] in supplemental budgets. Also, we're going to start the process of reaching out for private donations from our corporate partners in the city so we can put these kids to work."
According to Arroyo, similar gestures from the corporate community helped saved youth jobs last year when they were facing a cut of 1,400 jobs.
"Due to corporate donations we were able to close that gap and restore over a thousand of those jobs. So we're hoping to do the same thing."
For parents worried about their child not having a city-funded summer job to turn to this vacation, Arroyo says, "get on the phone."
"They need to call their state legislators and let them know that we want them to work hard to restore funding for summer jobs," Arroyo said. "If the feds and state put some money in the pot, we can go to some private businesses and raise some money and close the gap."