Students take stand and step for health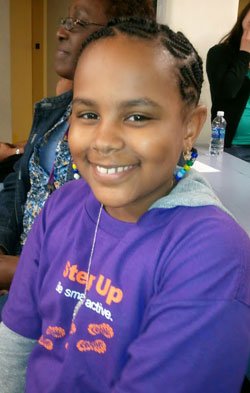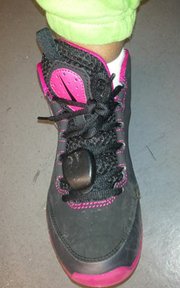 Elementary school students in Dorchester are learning that small steps can lead to big changes in their health.
The students are participating in a 16-week program called "Step it Up." Sponsored by Partners HealthCare, DotWell and Partners HealthCare Center for Connected Health, the program was launched in March and incorporates technology, educational feedback and a team-oriented foot race to raise awareness about the importance of daily activity and good health.
To track their activity, the students have received sneaker chips that resemble pedometers that clip onto their sneakers. These chips measure the number of steps each student takes in a day and counts the minutes of activity.  Special computers have been installed throughout the school and when students walk by them, the data from the chips are automatically uploaded.
In an effort to keep up the momentum, students, faculty and program sponsors gathered in the basement of Oliver Wendell Elementary School last Friday.  Students were yelling with delight as teachers explained to them how many steps they've taken since the last check in.
So far the children have taken a total of 3,024,023 steps. One teacher told the group if they walked 650 steps per day for the rest of the year, they would have walked the distance from Boston to Montgomery, Ala.
"The competition is terrific," said Tom Powers, director of School Based Initiatives at DotWell. "Since the teachers are involved, they are like wellness models."
Each week the students receive a step report showing their individual progress as well as their team's progress. Additionally, the children are given fold out charts called "Step Meters" that help them track their cumulative steps. The "Step Meters" contain milestones, such as "you've walked the Boston Marathon" or "number of average steps taken in a soccer game" to keep them going.
The Centers for Disease Control reports that childhood obesity has more than tripled in the past 30 years. The prevalence of obesity among children ages 6 to 11 increased from 6.5 percent in 1980 to 19.6 percent in 2008.
The "Step it Up" program sponsors are hoping to combat childhood obesity using technology.
"Three hundred and sixty-five days a year our bodies are generating information that can be tracked," said Dr. Joe Kvedar, director of the Center for Connected Health.
Before the students are dismissed, they are asked to share with everyone how they can be more active.  One child says he'll ask his mother to walk him to school every day. Another says that she'll tell her parents to walk to the store instead of taking the bus.
"The kids energy and enthusiasm is encouraging," said Kristen Barnicle, associate director, Community Benefit Partnerships and Finances at Partners HealthCare. "If it makes a difference then we could replicate it in other schools," she said.
It's evident from the level of engagement that the kids are excited about health and Dr. Kvedar couldn't be happier. "The quantification of behavior, the ability to measure, track and improve one's health using technology in this way, is one of the most inspiring things we've done in fifteen years."