Clementina Chéry
3/22/2011, 11:41 a.m.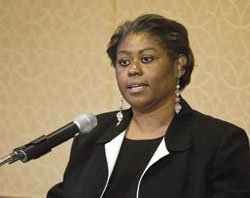 Clementina Chéry
The National Association of Social Workers (NASW) is pleased to name Clementina Chéry its Public Citizen of the Year.
Chéry is president and CEO of the Louis D. Brown Peace Institute in Dorchester and serves as its director of outreach services. In 1993, Chéry's son, Louis Brown, was shot and killed while on his way to a Christmas party given by a group called Teens Against Gang Violence — a violence prevention, intervention and peer leadership development program.
In 1994 she co-founded the Institute, which is dedicated to carrying on her son's legacy of preventing violence in their community.
The Institute seeks to achieve its mission in part through the Louis D. Brown Peace Curriculum for students K-12. This curriculum helps young people avoid violence by instilling values and creating activities that enrich the community. The program was commended in 1996 by U.S. Attorney General Janet Reno as contributing to Boston's reduction in juvenile crime.
"It takes courage to turn a personal tragedy into a public service for good," says NASW President James J. Kelly. "Clementina Chéry is a tireless advocate for peace in struggling neighborhoods and an inspiration to us all."