Arts
3/16/2011, 8:06 a.m.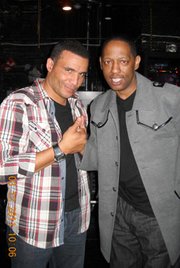 Carnaval:  A Masquerade Ball
I had a blast at The Boston Chapter of Links, Inc. pre-Mardi Gras fundraiser, Carnaval: A Masquerade Ball. It was held in the beautiful loft space at the Artists for Humanity Epicenter building in South Boston. It was great to see an event like this where folks were actually having a good time. Everyone was smiling, eating, drinking and dancing.
The music was just the right blend of Motown soul, 80s hits and contemporary songs that had everyone from 30 to 60 hitting the dance floor hard (including a lot of the Links) all for a good cause. The Boston Chapter of Links, Inc. is a service organization part of a national organization of women 10,000 strong who support programs in the areas of youth, national trends, international trends and the arts.
The masquerade ball raised close to $60,000 that night. It's definitely an event to put on your calendar for next year, but to all my single ladies: Make sure you bring a date because the couples outnumbered the single people three to one.
The Angela Bofill Experience
Nothing like live music! I was a fan of Maysa from back in the day when she was in the British soul group Incognito, and I recently saw her at the Steppin' Out Gala last fall. So, I was looking forward to seeing her again at "The Angela Bofill Experience."
I arrived a few minutes after the show began and caught a sizzling warm-up by the band. Maysa teased us with "Baby, I Need Your Love" and then it was time for who we were truly there to see, Angela Bofill. I don't know if most people are aware, but  Bofill had suffered two strokes in the past few years. In order to get to the stage, she was wheeled in by an assistant and I was so inspired by her courage.
The fans showed their love by giving her a standing ovation. Once she was settled in her seat, Maysa began with Angela's "Too Tough" and "What I Wouldn't Do (For The Love Of You)." The show was a combo of singing, lots of humor and anecdotes by Bofill, and old footage from her days performing. The video montage included personal photos of her family and nephew, who recently passed away.  Before the show ended, Maysa performed my three favorite songs, "I Try", (which was written by Angela after heartbreak at 17), "This Time I'll Be Sweeter" and my all-time favorite "I'm On Your Side," which I would always play on my radio show in college.
Dave Valentin, Grammy-winning flutist and long-time friend of Bofill's, provided commentary throughout the show. Bofill mentioned that they both grew up in the Bronx and met when they were 15. You can still see the sparks flying between them. What a truly wonderful and inspiring show!
Shaquille O'Neal Presents All Star Comedy Jam
Number 36, a.k.a. Shaquille O'Neal didn't make it to his shows last night, (although I heard he drove by), but his teammates Delonte West and Rajon Rondo came in for the late show at the Wilbur Theatre, for round two of the All Star Comedy Jam.  Performing for two sold-out shows were Henry Welch, David Arnold, TK Kirkland, Capone, Tony Roberts and Gary Owen from Tyler Perry's "House of Payne."