Journalist chronicles blacks' 'Great Migration'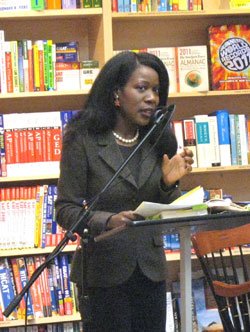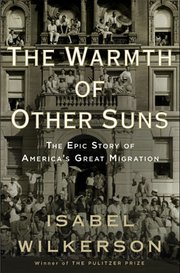 Between 1915 and 1970, some six million African American citizens left the South and its oppressive Jim Crow laws and became immigrants in their own country, seeking greater freedom in the cities of the Northeast, the Midwest and the West.
Pulitzer Prize-winning journalist Isabel Wilkerson chronicles this vast movement in her book, "The Warmth of Other Suns: The Epic Story of America's Great Migration." It has been an untold story, she says, locked up in the hearts and minds of the participants and often unknown to their children and grandchildren.
"One reason this story hasn't been told in this way until now, is that the people didn't talk about it," she told an audience recently at Porter Square Books in Cambridge, one of many stops on a cross-country book tour she has been on since the book's publication last September. "That was a generation that did not talk about the hardships they might have faced."
Wilkerson, who is African American, said she learned the stories of her own parents' migrations from Georgia and Virginia to Washington, D.C. only when she began reading her work to her mother.
"[But] these stories matter," she said. "These individuals, multiplied by six million, made such a huge demographic sea change in this country."
Wilkerson interviewed more than 1,200 people for the book, going to picnics and to churches, senior centers and American Association of Retired Persons meetings, she said, in what became a 15-year project.
She chose to tell the great migration story by focusing in detail on the lives of three individual migrants. Ida Mae Brandon Gladney rode the train with her husband and young children in 1937 from Chickasaw County, Miss. to Chicago; George Swanson Starling fled Eustis, Fla. for Harlem in 1945 after trying to organize orange pickers; and Robert Joseph Pershing Foster, a trained surgeon not allowed to work in southern hospitals, drove alone in 1953 from Monroe, La. to Los Angeles.
The three made their journeys in separate decades and followed different paths across the country, but they shared the yearning to leave and the strength to overcome obstacles in both the Old Country of cotton fields and orange groves and the New World of cities, apartments and factories.
It's not hard to explain why blacks were willing and sometimes desperate to leave the South.
"Across the South," Wilkerson writes, "someone was hanged or burned alive every four days from 1889 to 1929," for such alleged crimes as "boastful remarks" or "trying to act like a white person." Some lynchings were announced in advance in newspapers and drew crowds of thousands.
She tells of a black soldier who arrived back home in Georgia after serving in World War I. A group of white men harassed him, ordering him to take off his uniform and walk home from the train station in his underwear. He refused. Days later, a mob attacked him. He was beaten to death, wearing his uniform.
The book recounts some horrifying beatings and killings, but also brings to life the day-to-day, year-after-year insults Southern blacks endured.