Berklee trained musician promotes new album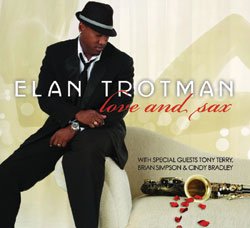 Berklee trained saxophonist Elan Trotman performed last week at Sculler's Jazz club to promote his new album "Love and Sax."  Released March 8, "Love and Sax" is a bit of a departure from Trotman's earlier efforts "Memories," "Let's Have a Good Old Time," "A Reggae Christmas" and "This Time Around" — all of which showcased his Caribbean/Barbadian heritage, as well as gospel and sometimes RandB influences.
For his fifth album, Trotman, who just returned from Barbados, told the crowd he wanted a mellow, laid back sound. He asked producers to make it sensual. "I wanted that baby-making music … something romantic," Trotman said.
Trotman came to the United States on a scholarship from the Barbadian government to attend Berklee. He's been a musician for as long as he can remember. His father was a guitar player and his mother sang in a choir. Trotman can play the piano, the French horn, the flute and the saxophone.
More interested in uploading videos than keeping up with his Twitter page, the gifted musician can be seen playing "Calypso on Flute," a crazy soprano saxophone solo in "100 Degrees" and the National Anthem at a Red Sox Game in 2004 on YouTube. Trotman diligently uploads performances on YouTube so jazz lovers all over the world can take a listen.
Playing track after track from "Last Dance" to "Cancion de Amor," Trotman's whole heart was in his performance. Pulling from a deep place, he soared on "Rain" produced by Berklee alum and friend Peanut who has played drums with R and B artist Monica and worked with jazz great Diane Shuur.
"Heaven (In Your Eyes)" really grabbed the crowd's attention despite Trotman's initial misgivings. He tried to record the song three or four times unsuccessfully.  But for this album he finally got it right. Full of energy and a bit frantic, "Heaven (In Your Eyes)" was gushing with surprises.
"Midnight Serenade," the only song with words, boasted the vocal stylings of 1990s crooner Tony Terry, best known for his hit "When I'm With You." Though Terry couldn't make the performance, Trotman piped Terry's voice over the speakers.
With the exception of the jazz standard "When I Fall in Love" and Bob Marley's "Stir it Up," he stuck to the track list on "Love and Sax"that had couples moving closer with faces warm from flickering candle light.
A week before the show, the Banner spoke with Trotman about his career, stage fright and the future.
Has your saxophone brought you love?
Yeah, love from my fans. Generally the sax is seductive, sexy and closest to the human voice.
What makes better music — love or pain?
Both. Something has to move you to make you creative. It doesn't mater as long as you're inspired.  
Do you get nervous before performances?
I don't get nervous about performing. But one time I had to play a hockey game and had to walk out on on the ice. I was worried about falling.
Do you think you'll end up managing other artists and putting them on your E.T. Muzik label?