Comic book writer diversified superheroes
Associated Press | 3/1/2011, 7:19 p.m.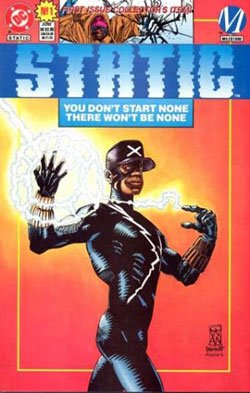 WASHINGTON — The comic book superheroes of Dwayne McDuffie's childhood were all tights and flights, blond hair blowing in the breeze, blue eyes twinkling from behind a mask.
The few black characters that existed then were cast as foreign-born, or former thugs, or criminals who changed their ways. One company even thought the "Black Bomber," a white racist who would turn into a black superhero when under stress, was a good idea.
Today, the worlds where the battles for truth, justice and the American way are fought are chock full of superheroes of all ethnicities and genders. This is due in large part to McDuffie, who championed diversity during a comic, animation and television writing career that spanned more than 20 years.
The sudden death of McDuffie last week at age 49 has sent comics aficionados, as well as the multimillion-dollar comics industry, reeling.
McDuffie was just beginning to crack the Hollywood market, writing animated movies for DC Comics and spearheading popular TV cartoon series. His animated movie adaptation of the comic book series "All-Star Superman" premiered two weeks ago.
"He was an incredibly successful writer and editor of comic books. And this is regardless of color," said film director Reginald Hudlin, a friend of about 15 years. "He had success both with black characters and some of the biggest, most mainstream characters."
While prolific in his writing — his credits include stories about Superman, Batman, Spider-Man, the Fantastic Four and the Justice League, cartoon characters such as Ben 10 and Scooby Doo, and movies such as the new animated "All-Star Superman" — McDuffie's enduring legacy is as a founder and editor-in-chief of Milestone Media, the first major comic book imprint to feature non-white lead characters.
Under McDuffie's leadership, the eponymous Hardware and Static were black. "Xombi" was Korean American. "Kobalt" was white. Heroes of every race, creed, color and sexual orientation populated the "Blood Syndicate," "Heroes" and the "Shadow Cabinet."
"Milestone was the shared vision that we would provide the world with images that had been excluded from the mainstream for decades. Dwayne was the key to making that dream a reality to our company and comic book fans, as well as those who sought tales of adventure," Derek Dingle, who co-founded Milestone with McDuffie, told Comic Book Resources.
"Dwayne realized the importance of creating such images because they represented heroes and opportunities," Dingle said. "He also saw comic books and animation as a way of dealing with such issues as racism, sexism, gang violence, gun control and conflict resolution without sacrificing entertainment value."
McDuffie often said he didn't set out to be a black comic writer, or a comic-book writer who wrote about black issues. But he didn't run from those roles either.
"I'm conscious of race whenever I'm writing, just as I'm conscious of class, religion, human psychology, politics — everything that makes up the human experience. I don't think I can do a good job if I'm not paying attention to what's meaningful to people, and in American culture, there isn't anything that informs human interaction more than the idea of race," McDuffie told The Atlantic in a March 2010 interview.