Django Reinhardt Allstars' jazz is 'le hot'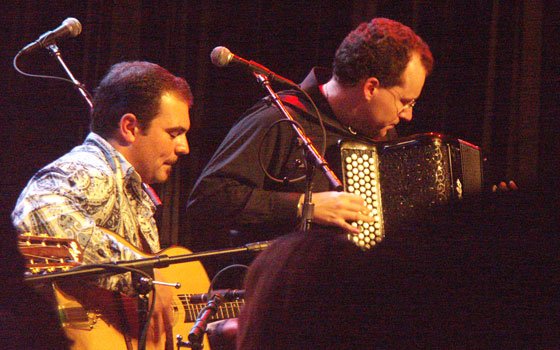 With joy, exuberance and virtuosity, the Django Reinhardt Allstars conjured the transatlantic spirit and style of "le jazz hot" at the Regattabar in Cambridge Saturday evening in the first of their two shows that night.
Playing a swinging hybrid of European Gypsy music and American jazz that can be sweet and easy as well as torrid, the quartet of three Frenchmen and an American drew their inspiration from the great jazz guitarist Django Reinhardt (1910-1953). A Belgium-born Gypsy who lived in France, Reinhardt blended the innovations of Louis Armstrong and other jazz pioneers with his own musical heritage and became a renowned and influential performer.
Although he could neither read nor write musical notation, Reinhardt also created sublime compositions that are now classics. In 1934, he co-founded the legendary Quintette du Hot Club de France with another French jazz great, the violinist Stéphane Grappelli, who remained his partner for years.  
Fresh from a weeklong Django Reinhardt Festival, held since 2000 at Birdland in New York City, the ensemble comprised Samson Schmitt, lead guitarist, son and protégé of renowned guitarist and violinist Dorado Schmitt; Doudou Cuillerier, rhythm guitarist and vocalist; Ludovic Beier, on accordion and accordina; violinist Pierre Blanchard; and its sole American, bassist Brian Torff, who toured with Grappelli.
Interacting with humor and a warm give-and-take throughout their sensational 90-minute set, these heirs to Reinhardt's inventively ornate, swinging and improvisation-rich style  kept schmaltz at bay despite the presence of such chestnuts as "The Good Life" in their 12-song repertoire.
Concocting music to dance and daydream, Schmitt spun swirling ribbons of notes to Torff's pulsing standup bass and the chugging rhythms of Cuillerier, whose implacable face was chiseled by thick black brows and a goatee.
Seated on a stool, the charismatic Beier balanced his accordion on his knees or spread his arms wide to fully fan out its billows as he rendered a dazzling solo in "Softly, As in a Morning Sunrise." Masterfully drawing whirling arpeggios and a rich rhythmic pulse out of his old-world instrument, Beier banished the ballad's melancholy. Torff asked the wildly applauding audience, "Aren't you sorry you told all those accordion jokes now?"
The wiry Blanchard cast a spell with his soaring performance of Cole Porter's "It's All Right With Me," which included an intoxicating duet between his weeping strings and the lacy fretwork of Schmitt.
With a strong, unadorned voice, Cuillerier sang a Gypsy folk song as Blanchard and Beier took turns adding layers of melodic embellishment. Then he switched to a thrilling, rapid-fire scat of "Undecided," the 1951 Ames Brothers hit. As Cuillerier leapt through its percussive lyrics — "First you say you do, and then you don't, And then you say you will, and then you won't" —  his mouth and face became a rubberized blur.
In a bracing solo that drifted into the zone of heavy metal and electronic music, Torff used his long body to play multiple parts of his upright bass at the same time, one hand pulling bell-like notes from the strings while he drummed its body with his bow.  
The ensemble closed with a blazing rendition of "Sweet Georgia Brown" followed by a euphoric version of the Django Reinhardt composition, "Minor Swing."