Fun, food and fashion ... oh my!
6/15/2011, noon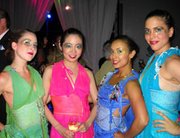 Fun, food and fashion ... oh my!
Pitching In For Kids Kick-off Celebration
Dancers from Poon Productions (from l to r) Christina Johnson, Tsu Basa Ogawa, Dorian Cervantes and Courtney Baron performed at UnTamed June 2. (Colette Greenstein photo)

Comedian Russell Peters and Roxbury International Film Festival Coordinator Delilah Dasilva are seen here at the New Majority Comedy Tour at Agganis Arena. (Colette Greenstein photo)

It was steamy inside the annual Pitching In For Kids (PIFK) fundraiser both due to the temp and to a bevy of young and attractive men and women who were there to mix, mingle and support the charity.
It was a "who's who" of Red Sox players as I arrived just in time to see hurler Tim Wakefield and catcher Jason Varitek on stage welcoming everyone as the hosts for the evening.  As I made my way around the room I spied some other Sox players like Clay Buchholz and Josh Beckett along with David "Big Papi" Ortiz and Adrian Gonzalez inside the old Comedy Connection. Word had it that coach Terry Francona made an early appearance along with sluggers Dustin Pedroia and Kevin Youklis.  Local comic Tony V. once again took to the stage for the live auction and comedy show. PIFK took over the top level of the Quincy Market Building in Faneuil Hall Marketplace with the night kicking off at Ned Devine's Irish Pub with a great spread by The Capital Grille (which by the way included their mouth-watering fresh lobster mac and cheese).
While the rain poured down and bolts of lightning were flashing in the sky —  who knew tornadoes made their way to Massachusetts? -— the Texas Hold'Em Poker Tourney got underway with the players and fans competing to win a pot for the charity.
I couldn't tell you the difference between an inside straight or a flush draw, but from what I saw, neither could some of the fans. It didn't seem to matter much, as a boatload of money was raised to improve the lives of children across the New England region.
UnTamed
My imagination ran wild after I received an invitation to attend the world-premiere performance of UnTamed: The Wild Underground by Suspended Cirque at Cyclorama. I very happily rsvp'd to the event, which also included a VIP pre-show supper. There seemed to be something a little different about this night as art and theatre-goers mingled with actors, dancers and professionals of all backgrounds.
As always, I had to sample the food, and in addition to the duck they were serving, I noshed on this fabulous shrimp and rice dish. All that was missing was some catfish and po'boys. And the reason for the festivities was to honor Klare Shaw for her longtime championing and support of Boston's art and cultural scene.