Partners HealthCare: Helping to serve healthy, locally grown summer meals
6/14/2011, 11:22 p.m.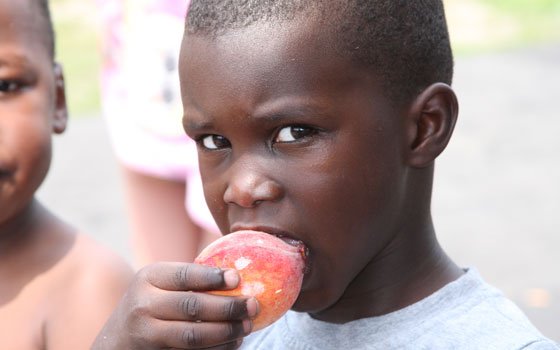 (Photos courtesy of Project Bread)
When the bell rings for the last time this school year, thousands of students will rush out of the doors of their schools, hoping for a safe and enjoyable summer. But for many students, the end of the school year also means the end of school breakfast and lunch, and the beginning of missed meals and hunger pains.
This summer, Partners HealthCare is helping to fill the meal gap for nearly 4,000 low-income children and teenagers through a partnership with Project Bread and the Summer Food Service Program. Through a grant from Partners, the program will help to provide healthy, locally grown foods in 56 neighborhood sites in Boston, Revere and Lynn.  
According to Project Bread, families on tight budgets are able to stretch their food dollars during the school year because many students receive free or reduced-price meals at school. During the summer months though, it is much harder for families to absorb the cost of the additional meals and many students experience hunger and malnutrition, and adopt poor eating habits.
A recent report by the Food Research and Action Center states that when children don't receive adequate nutrition over the summer months, they are disadvantaged when they return to the classroom in September, and in Massachusetts only about 20 percent of children who eat free or reduced-priced lunch during the school year eat a Summer Food Program meal when school is out.
"We're excited that the Partners HealthCare grant enables us to bring fresh, high-quality food to low-income children this summer," said Ellen Parker, executive director of Project Bread. "For example, in Boston, we are partnering with Community Servings, a food sponsor that works with seven local Massachusetts farms to use fresh produce as it comes into season. They even flavor their food with fresh herbs from their own herb garden rather than rely on sodium or fats."
"Partners HealthCare is committed to helping to improve the health of the communities we serve," said Matt Fishman, vice president for Community Health. "We are pleased to be able to partner with Project Bread to help school-age children have access to nutritious food they need to be healthy over the summer months and then be able to thrive when they return to the classroom in the fall."
The Summer Food Sites are located at local pools, parks, schools and neighborhood centers, and all meals are free for children and youth 18 and under. To lean more about the Summer Food Service Program, call Project Bread's FoodSource Hotline at 1-800-645-8333 or log on to www.meals4kids.org.
This collaboration represents an extension and deepening of the relationship Partners HealthCare has had with Project Bread through work done at Massachusetts General Hospital at its health center, MGH Chelsea. The Health Center Pediatric Hunger Prevention Project began as a research project almost nine years ago with leadership from Ronald Kleinman, M.D., and has evolved into a full program called Food For Families. It is run through Mass General Hospital's Center for Community Health Improvement.