City Council makes it official: 'Thank you' Haley House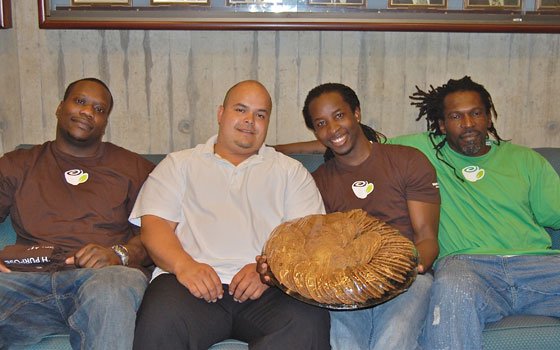 Resolutions praise food-based service model, transitional program for ex-convicts
The Boston City Council last week recognized the 45 years of community service provided by Haley House, commending the nonprofit organization's programs in nutrition education, life skills and employment training for ex-prisoners re-entering society.
In resolutions co-sponsored by District 7 Councilor Tito Jackson and Councilor-at-Large John Connolly, the council proclaimed June 8, 2011 "Haley House Cookie Day" and bestowed official best wishes on Daniel Cordon, creator and director of the Transitional Employment Program (TEP), as he departs Haley House to marry and relocate to North Carolina.
"Haley House started on Dartmouth Street in the South End taking homeless men and moving them into housing," said Connolly. "It has grown its mission to also serve the community that's re-entering society from jail ... The model is that the bakery and café [on Dade Street in Roxbury] is run by folks in transition. It creates that vital pathway of support for people looking for an opportunity. At Haley House people seize that opportunity and make the best of it."
Haley House offered job training in years past, but Cordon, who came to the organization after 15 years in prison, re-invented the program for ex-prisoners in transition. The 24-week program combines baking skills with other support such as tutoring and financial education and opportunities to talk and listen with colleagues and staff.
Councilor Jackson described the transitional program as a reflection of the Bostonian character.
"We are a city that doesn't give up on people; we give people opportunities," Jackson said. "And this is embodied in Daniel; he has taken this opportunity by the horns."
Cordon was born in Colombia and adopted at age 3 by a Woburn family. After a promising youth, including captain roles on sports teams, Eagle Scout status at age 12, private high school and an academic scholarship to college, his life unraveled after his parents divorced. He joined the National Guard "on a whim," he said, then enlisted in active duty in the army. While stationed in Germany, he killed a civilian when an altercation he says he should have walked away from escalated to violence. He confessed, pled guilty and spent 15 years in military and federal prisons before being paroled in 2009.
While he was serving the last months of his time in a Boston halfway house, his mother introduced him to Kathe McKenna, Haley House's founder and executive director.  Cordon's mother had volunteered there and kept McKenna apprised of her son's activities in prison where he was mentoring and counseling other inmates as well as holding numerous and varied jobs.
He was hired as a customer service representative for the catering operation and quickly rose to manager. He soon approached McKenna with the idea of bringing the job training program back, but this time geared toward ex-inmates living in halfway houses.
Accompanying Cordon to City Hall on June 8 were three of his first TEP "graduates": Joseph Bartley and Roland Worrell, both of whom will train the next group of TEP participants, and Audley Mills, a full-time line cook at the café who will start culinary school this fall. Mills smiled broadly as he carried a huge tray of the famous chocolate chip cookies into the council chambers.