'... an artist with a delicate touch'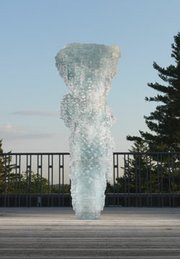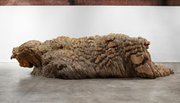 Whether massive or small in scale, Ursula von Rydingsvard's sculptures of red cedar invite you to take a closer look. When you do, you inhale the wood's familiar and pleasant fragrance. The familiarity of these works also extends to their shapes, which evoke organic forms or objects of daily life — an apron, a spoon, a plate.
Yet even the least abstract works assume an air of timeless mystery in the absorbing exhibition, "Ursula von Rydingsvard: Sculpture," on view at the DeCordova Sculpture Park and Museum through Aug. 28.  
Von Rydingsvard, 69, draws upon old world imagery from her childhood in post-Nazi Germany, including tools and materials connected with her family's agrarian roots. Descendants of Polish farmers, her family migrated to Connecticut when she was a child.
 While triggering associations, each of her sculptures is a study in the paradoxical poetry of frozen motion. Von Rydingsvard stacks, glues and clamps beams and brick-shaped chunks of cedar into a structure that retains the outlines of its rectilinear building blocks. Yet, using a circular saw, she often shapes the soft wood into a torqued construction of elliptical ovals that whirl around an unseen axis.  
And many of her works combine a Minimalist's adherence to grids with a Baroque appetite for highly tooled and marked surfaces that show her hand at work.
A carefully culled selection of sculptures by this industrious artist is handsomely installed on two levels of the museum. Sampling works between 1991 and 2011 by the Brooklyn-based sculptor, the exhibition was curated by Helaine Posner, chief curator at the Neuberger Museum of Art in Purchase, NY. A book by Patricia C. Phillips entitled "Ursula von Rydingvard: Working," accompanies the traveling exhibition, which originated earlier this year at the SculptureCenter in New York.  
The museum has added a sculpture to the show, a commissioned work that currently reigns on its rooftop terrace, "Elegantka" (2011). Resembling an ice formation, von Rydingvard's pillar of translucent polyurethane resin glows from within as the changing light of day penetrates its frosted, fractured surface, which varies in tone from aquamarine to white.  
On the museum's fourth level is a display of von Rydingsvard's works on hand-made linen paper. They show her to be an artist with a delicate touch. Using thread and pigments of grey and black, the six spectral images suggest human figures and volcanic eruptions. In one spare and striking composition, she ripples the paper with contour lines and veins the paper with tendrils of red thread.  
Her restraint is also visible in the sculptures on view in an adjacent gallery. "Large Ring" (2005-2006) renders a recurring shape in her works — an ellipse — in amber-toned cedar. Resembling a romantic picture frame, the oval comprises multiple sheets of wood molded into undulating curves. Globs of resin glisten along its edges, which are sliced to expose the sandwiched layers of cedar. In the next room are von Rydingsvard's captivating evocations of domestic objects. Constructed from hundreds of parts, her apron with its billowing tie is a simple household object made monumental — a memory reconstituted in wood.
The fragrance of cedar permeates the museum's large third floor gallery, where seven works are on display. Black, hand-stitched cow intestines ring the perimeter of the crater of darkened, craggy cedar entitled "Ocean Floor" (1996), an oppressive structure.
Nearby is the hulking "Droga" (2009). Slanting masses of wood surge like a lava flow or the curl of a wave over a cavernous hollow that a small child might be tempted to crawl through. Another dark and brooding work, "Krasavica II" (1998-2001), five urn-like structures strung in a row, evokes medieval wood statuary of European churches.
A slender presence among these behemoths is the earliest work in the show, "Johnny Angel" (1991). Viewed from the front, it is a single, narrow column of wood. Seen from the side, the nine-foot-tall sculpture calls to mind a long, lean figure by Swiss sculptor Alberto Giacometti (1901-1966). Constructed out of five vertical beams glued together and cut like a stencil into rhythmic curves, the sculpture ends with a stalactite-shaped tip that barely touches the floor.