Setti Warren embarks on US Senate race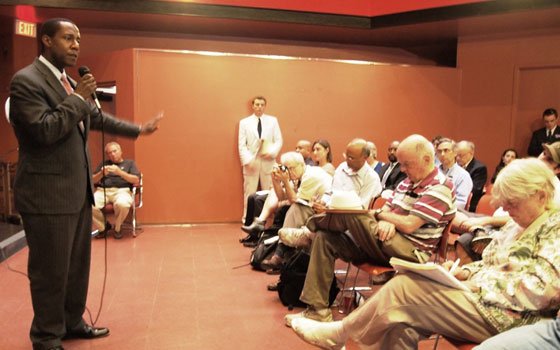 The youngish black man in the conservative gray suit, whose parents named him after an Egyptian Pharoah, stands with microphone in hand and jokes that he feels like "a warm-up act."
But Newton Mayor Setti Warren clearly had a larger purpose as he pressed the flesh in the small, crowded room filled with active Democrats in the Back Bay — to introduce himself and his campaign to replace Republican U.S. Sen. Scott Brown.    Warren made state history in 2009 by becoming the first black mayor elected in Massachusetts, along with Lawrence Mayor William Lantigua, who is Hispanic and black. After just 18 months in office, the 40-year-old mayor of Newton is trying to make a great leap to the Senate. He has joined a shapeless field of Democrats seeking the nomination to challenge Brown, the former state legislator who earned the seat vacated by the late Ted Kennedy.  
So far, Warren appears to be the only black Democrat in the country running for the Senate, which has not had a black member since Senator Roland Burris, appointed to President Barack Obama's seat, left office in January.
Warren draws inspiration and the model for his campaign from Obama and Gov. Deval Patrick.
"Certainly they're people that have inspired me — particularly how they ran their campaigns," Warren says in an interview. "Their service is a model of how to really reach people at the grassroots level."
His campaign theme, not yet reduced to a slogan, is similar too. It conveys a sense of commonwealth, with everyone having a shared responsibility for those in need and the greater good.
"I believe that we have a shared sense of responsibility. We can actually lift our fellow citizens in need," he tells the gathering in the First Church of Boston, where the Ward 5 Democratic Committee held the council candidates forum last week.
Somewhat surprisingly, Warren is running on his experience in government. Before being elected Newton's mayor, he served on the White House staff and directed the Federal Emergency Management Agency in New England, both during the Clinton administration.
Right after 9/11, he joined the Navy Reserve and spent a year in Iraq as an enlisted intelligence specialist. He worked as an aide handling small business issues for Sen. John F. Kerry until launching the mayoral campaign.
Altogether, Warren spent almost a decade working for the federal government. "I think it gives me the exact skill set we need in the United States Senate," he says.
The forming Democratic field includes two candidates who have run statewide before. Alan Khazei lost in the Democratic primary for the same Senate seat in 2009, and Bob Massie was defeated as the nominee for lieutenant governor in 1994.
An independent poll taken in April showed Brown, who remains popular despite some wavering and waffling on major legislation, leading even more prominent Democratic elected officials in theoretical matchups, including Patrick. Brown led Warren, a month before he officially entered the race in May, 52 percent to 9 percent.